<< All News
Thursday, August 8, 2019 - 11:14 am
Categories: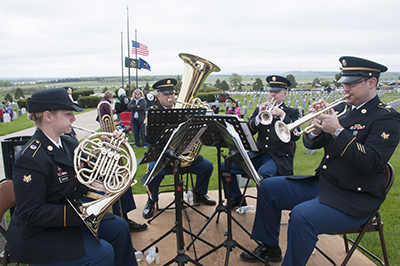 FARGO, N.D. — Members of the North Dakota National Guard's Fargo-based 188th Army Band will perform during the 25th Annual Jass Festival on Sunday, August 11, at the El Zagal Shrine in Fargo. The festival is scheduled for 12:00 noon until 5:00 p.m. and the Army Band's Jazz Ensemble performance is scheduled for approximately 12:50p.m.
The Army Band's Jazz Ensemble is directed by Sgt. Joshua Peterson and Spc. Brian Lydeen. This group of musicians offers a full classic big-band sound featuring five saxophones, five trombones and five trumpets in addition to a full-rhythm section. The group performs traditional big-band jazz as well as more contemporary styles of show tunes. 
The 188th Army Band has a rich history in starting in Valley City in 1887 as the 1st North Dakota Infantry Band. In 1891, the band was moved to Lisbon, N.D., where it remained for over 65 years and included a deployment to France during World War I. When the musician Soldiers returned to Lisbon, they were redesignated the 164th Infantry Band. After World War II, the band was redesignated as the 294th Army Band. In 1959, the band moved to Fargo where it became the 188th Army Band. During the band's 132 years of existence, they have trained all over the nation and the world to include performances in Washington, D.C.; Mount Rushmore, S.D.; Valley Forge, Penn.; St. Louis, Mo.; Nashville, Tenn.; San Francisco, Calif.; Fort Monroe, Va.; Montego Bay, Jamaica; Brisbane, Australia; and Heidelberg, Germany.  
The 188th Army Band is under the leadership of Chief Warrant Officer 2 James Landman and 1st Sgt. Jeff Pfingsten, both of Fargo, N.D.
Who: 188th Army Band's Jazz Ensemble.
What: Performance during 25th annual Jass Festival.
When: Approximately 12:50p.m., Sunday, Aug 11.
Where: El Zagal Shrine, 1429 North 3rd Street, Fargo, N.D.
Media contact: Sgt. 1st Class Jenn Schwind will be on site at 701-866-2932.
——
The North Dakota National Guard is a trained and highly motivated force of about 4,000 Citizen-Soldiers and Citizen-Airmen. We are always prepared to provide ready units, individuals and equipment in support of our communities, state and nation. Always ready, always there.
###
<< All News