<< All News
Wednesday, November 17, 2021 - 11:00pm
Categories: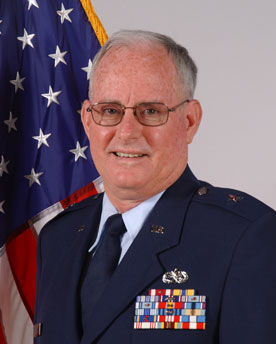 BISMARCK, N.D. — Major General Al Dohrmann, adjutant general for the N.D. National Guard, issued the following statement on the passing of retired Brig. Gen. Al Palmer, Tuesday, Nov. 16.
"We are deeply saddened by news about our friend and colleague Brig. Gen. Al Palmer," said Dohrmann. "Al exemplified the concept of a Citizen-Airman, serving in the National Guard for three decades. His quiet dignity and sound leadership continually inspired confidence in the Guard members that served alongside him. He was an Airmen for life, continuing to serve his community and state after his retirement from the National Guard. From serving on the Grand Forks base retention and military affairs committees, to serving Christmas dinner to Soldiers and Airmen, to being a driving force behind the construction of the Grand Forks Veterans Memorial park, Al set an example for all of us to follow."
Palmer joined the U.S. Air Force in 1972 and served in Thailand in support of military operations in Vietnam. In 1981 he joined the N.D. Air National Guard serving in a myriad of key leadership assignments before retiring in 2010. After his military retirement, Palmer continued to work tirelessly on behalf of military members and their families. He was a volunteer for over 13 years with the Employer Support of the Guard Reserve (ESGR), served on the Governor's Task Force for Veterans Affairs, and participated in building the Grand Forks Veterans Memorial Park which was dedicated last September.
Our thoughts and prayers are with Al's family during this time of grief.
——
The North Dakota National Guard is a trained and highly motivated force of about 4,100 Citizen-Soldiers and Citizen-Airmen.  We are always prepared to provide ready units, individuals and equipment in support of our communities, state and nation.  Always ready, always there.
###
Military biography: Retired Brigadier General Alan W. Palmer
<< All News