<< All News
Thursday, May 27, 2021
Categories: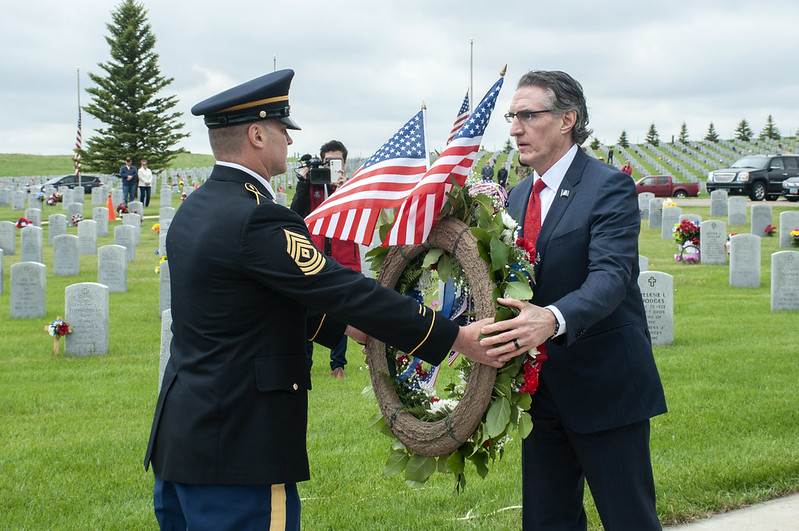 MANDAN, N.D. — The 2021 Memorial Day Ceremony will begin at noon Monday, May 31, at the North Dakota Veterans Cemetery, 6.5 miles south of Mandan on North Dakota Highway 1806. This annual event, hosted by the North Dakota National Guard, honors all deceased American servicemen and women and is free to the public. This year's theme is "Korean War – Never Forgotten.
Handicap-marked vehicles are encouraged to arrive before 11 a.m., and drivers should ensure handicap credentials and decals are readily visible to parking attendants.  Shuttle vehicles will be available to transport attendees from parking areas closer to the ceremony area. Attendees are encouraged not to drive large vehicles, such as recreational vehicles, campers or tow trailers due to constrained parking.
Request individuals not attending the ceremony, but dropping off flowers for Memorial Day grave decorations leave the facility by 10:00 a.m.
The ceremony will be live streamed at ndguard.nd.gov and will begin with a flyover salute performed by two UH-72A Lakota helicopters at approximately 12:03 p.m.
This year's keynote speaker is Russell Hawkins and the emcee is Sgt.1st Class Mark Steberg. Hawkins' biography, along with the ceremony agenda, is included in the 2021 Memorial Day program. In keeping with the theme, Hawkins will focus his remarks on this stepfather, Master Sgt. Woodrow "Woody" Wilson Keeble, Medal of Honor recipient for actions during the Korean War.
Rendering remarks are Gov. Doug Burgum, Sen. John Hoeven, Rep. Kelly Armstrong, and Maj. Gen. Al Dohrmann, N.D. National Guard adjutant general.
The North Dakota Army National Guard's Fargo-based 188th Army Band's "Brass Quintet" will perform "Amazing Grace" as well as pre-ceremony music. Also participating in the ceremony are local Veteran and civic organizations and the Bismarck Mounted Police, which will feature a caparisoned riderless horse with boots reversed in the stirrups to symbolize a fallen warrior that can no longer ride into battle.
The national anthem will be performed by Colleen Reinhardt with Taps by Eric Bender. AMVETS Post #9 will render a rifle-salute volley and the North Dakota National Guard Military Funeral Honors Team will execute a 21-gun cannon salute with a World War I-era French 75-millimeter cannon. Chaplain Greg Carr, Crisis Care Chaplaincy, Bismarck, and Chaplain (Col.) David Johnson, North Dakota National Guard, will provide the opening and closing prayers, respectively.
In support of this ceremony, the Viet Nam Vets/Legacy Vets Motorcycle Club is organizing an Honor Run at "The Shop" (131 Airport Road) in Bismarck. Participants will leave Bismarck at 11 a.m., head west on Main Street, cross the Liberty Memorial Bridge to Mandan's Memorial Highway. After turning west on Mandan's 3rd Street SE, the motorcyclists will head south on North Dakota Highway 1806 until they reach the North Dakota Veterans Cemetery. Please arrive on your motorcycle between 10 a.m. and 10:45 a.m. All motorcyclists and passengers are invited to participate and no precoordination is required.
Unlike previous years, there will be no formal Memorial Day program at the Heritage Center, North Dakota capitol grounds. Instead participants are invited to an informal social conducted at the Heritage Center's Missouri River Event Center beginning at 9:30 a.m. with activities beginning at 10:00 a.m. consisting of a small program, Wall of Honor presentations, and ceremonial wreath laying. This will allow participants sufficient time to travel to the North Dakota Veterans Cemetery for the noon ceremony.
A bus, parked near the east entrance to the Heritage Center, will transport people to the North Dakota Veterans Cemetery ceremony, leaving by 10:45 a.m. Participants are also invited to watch the cemetery's ceremony live stream at the Russell Reid auditorium at noon.
In honor of Memorial Day, Fort Abraham Lincoln State Park is again hosting a Military Appreciation Day by offering free admission to military members, Veterans and their families. This state park is located adjacent to the Veterans cemetery. For additional information, please call 701-667-6340.
The North Dakota Veterans Cemetery was established by an act of the 1989 North Dakota Legislative Assembly. The cemetery was opened July 1992, and is operated by the Office of the North Dakota adjutant general.
     WHAT: 2021 Memorial Day Ceremony 
     WHEN: 12:00 p.m., May 31, 2021
     WHERE: North Dakota Veterans Cemetery, 6.5 miles south of Mandan, N.D., on Highway 1806
 ——
The North Dakota National Guard is a trained and highly motivated force of about 4,000 Citizen-Soldiers and Citizen-Airmen.  We are always prepared to provide ready units, individuals and equipment in support of our communities, state and nation.  Always ready, always there.
###
Additional resources:
2021 Memorial Day program (pdf)
Ceremony will be live streamed at ndguard.nd.gov
<< All News