<< All News
Friday, May 5, 2023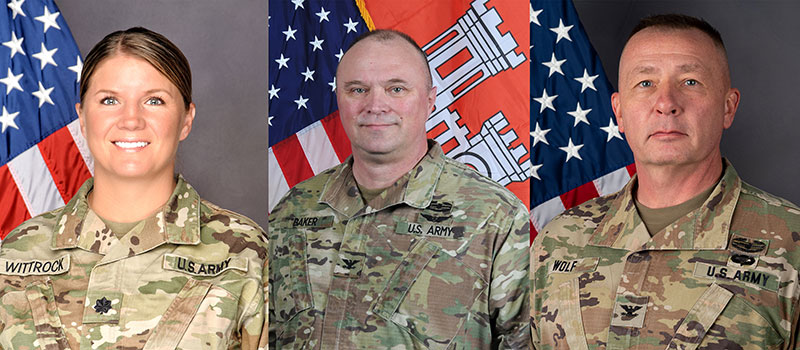 Devils Lake, N.D. — The North Dakota Army National Guard's Camp Grafton Training Center (CGTC) and 164th Regional Training Institute (RTI) welcomed new commanders today in change of command ceremonies conducted at the Training Center near Devils Lake.
In the first ceremony, Lt. Col. Anna L. Wittrock assumed duties as the commander of CGTC from Col. Philip F. Baker Jr. who has led the unit since April 1, 2022. An hour later, Baker assumed command of the 164th RTI from Col. Russ Wolf, who is scheduled to retire later this month.
The commander of the North Dakota Army National Guard, Brig. Gen. Jon Erickson, presided over both ceremonies. The change of command ceremony is a time-honored military tradition that represents the formal transfer of authority and responsibility for a unit from one commanding officer to another. The event is witnessed by members of the unit, as well as other military members, families and friends.
"Anna Wittrock is absolutely passionate about taking care of Soldiers as both a commander and in her fulltime job in personnel management" said Erickson. "She continues to be an integral part of our organization's successful mission accomplishment and will thrive as the CGTC commander."
Wittrock's command assignments include the 426th Signal Company, 231st Brigade Support Battalion and 142nd Engineer Battalion. Her deployments include Operation Iraqi Freedom and Kosovo.  In her fulltime job she serves as the North Dakota Army National Guard's deputy director of personnel. She earned her commission as a second lieutenant from the ROTC program at North Dakota State University in 2002.
"Philip Baker did an exceptional job commanding CGTC, a unit absolutely critical to the North Dakota National Guard's mission success," said Erickson. "The leadership and mentoring skills he brings to the 164th RTI will serve those Soldiers well."
Baker enlisted in the Massachusetts National Guard in 1989 and has participated in overseas training missions in Romania, Germany, Bulgaria, Croatia, Ghana, and Togo. He is a Veteran of Operation Iraqi Freedom. In his civilian occupation, Baker is a federal law enforcement officer with U.S. Customs and Border Protection. In addition to CGTC, Baker's command assignments include the 164th Engineer Battalion, and the 188th Engineer Company.
"Russ Wolf's stellar leadership of the 164th RTI was especially critical during the restrictions in place during the height of the COVID-19 pandemic," said Erickson. "The RTI successfully developed and implemented mitigation procedures that allowed it to be the first Army National Guard schoolhouse to welcome students back in person for courses July 2022."
Wolf, who assumed command of the 164th RTI on May 1, 2020, enlisted into the North Dakota Army National Guard in 1988. His military career includes service in the U.S. Army's active duty and reserve components. Wolf's other command assignments include Headquarters and Headquarters Company, 439th Engineer Battalion, U.S. Army Reserve; the North Dakota Army National Guard Recruiting and Retention Battalion and 164th Engineer Battalion. Overseas duty includes Korea, Bosnia/Herzegovina, Egypt and two tours of duty in support of Operation Iraqi Freedom. In his fulltime job, Wolf serves as the North Dakota National Guard's director of Construction and Facilities Management Office.
After the change of command ceremony Erickson recognized Wolf for 35 years of Army service with The Legion of Merit.
"Thank you Col. Wolf for more than three decades of service to our Army and to the Nation," said Erickson. "I wish you well in your retirement."
CGTC is a premier National Guard training center operated by the North Dakota National Guard and is located about 5 miles south of Devils Lake on Highway 20 and approximately 88 miles west of Grand Forks. Camp Grafton North consists of about 1,000 acres and rests on the northeast shore of the 100,000-acre lake bearing the same name as the community. The installation is home to the 164th RTI, 835/897th Engineer Detachments and the 3662nd General Support Maintenance Company. In addition to hosting military training, CGTC provides training facilities to such agencies as Bureau of Indian Affairs, Customs and Border Patrol, North Dakota Highway Patrol and other federal and state agencies. Camp Grafton South is located approximately 40 miles southeast of Camp Grafton North and entails about 9,300 acres of training areas and weapons ranges.
The 164th RTI is a year-round multi-start premier institution within the One Army School System. It provides multi-compo institutional training for various U.S. Army career management fields, non-commissioned officer Professional Development Education System and Officer Candidate School.  The 164th is the U.S. Army Corps of Engineers subject matter expert for the National Guard providing nationwide assistance with multiple aspects of Engineer instruction to sustain and build engineer Soldier readiness. The schoolhouse trains about 2,000 Army National Guard, Reserve and active-duty component Soldiers annually. 
——
The North Dakota National Guard is a trained and highly motivated force of about 4,000 Citizen-Soldiers and Citizen-Airmen.  We are always prepared to provide ready units, individuals and equipment in support of our communities, state and nation.  Always ready, always there.
###
High resolution photos at Flicker albums:
<< All News