<< All News
Wednesday, January 22, 2020 - 05:33pm
Categories: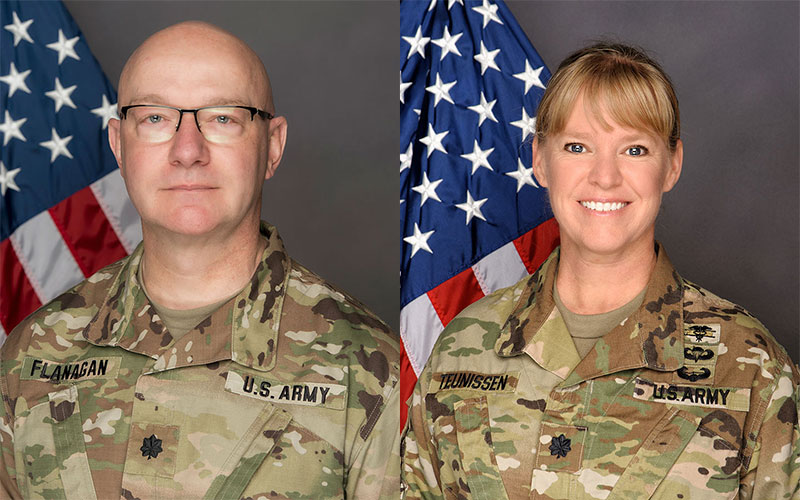 BISMARCK, N.D. — The North Dakota National Guard's 81st Civil Support Team (CST) will welcome a new commander on Thursday, Jan. 23 at the National Guard headquarters at Fraine Barracks in Bismarck. The change of command ceremony will begin at 2 p.m. in building 400 and the public and media are invited.
Lt. Col. Pat R. Flanagan will assume duties from Lt. Col. Lila L. Teunissen who has commanded the unit since July 2017. Teunissen is scheduled to retire soon after 29 years of service with the U.S. Army and the North Dakota National Guard.
Lt. Col. Brock Larson, commander of the N.D. Guard's 68th Troop Command, will preside over the ceremony.
The change of command ceremony is a time-honored military tradition that represents the formal transfer of authority and responsibility for a unit from one commanding officer to another. The event is witnessed by the Soldiers of the unit, as well as other military members, families and friends.
Flanagan enlisted in the N.D. National Guard in 1989 and was commissioned as a 2nd Lt. with the Medical Service Corps in 2000. His previous assignments include serving as a preventive medicine officer, patient administrative officer, and commander of the N.D. Army National Guard's Medical Detachment. Flanagan has experience with the 81st CST as the nuclear medical science officer and deputy commander. He is currently assigned as the N.D. Guard's state family program director.
Teunissen's military service began when she enlisted in the North Dakota National Guard in 1991. She transferred to the U.S. Army in 1994 and became an Arabic linguist. She was accepted into the University of Washington's ROTC program in 1998 and graduated with a Bachelor's of Science in Microbiology in 2001. She was commissioned a 2nd Lt. in the Medical Service Corps and was assigned as a platoon leader with the 568th Ground Ambulance Company in South Korea. In 2003 she was assigned as chief of clinical operations at the Raymond W. Bliss Army Health Clinic at Ft. Huachuca, Ariz. In 2005 she deployed to Iraq as the executive officer of the 566th Area Support Medical Company. Upon her return, she became the medical operations officer for the newly created 83rd CST in Helena, Mont. She returned to the N.D. National Guard in 2006 serving with the 164th Engineer Battalion and the N.D. Army Guard's personnel office. In 2016 she became the deputy commander of the 81st CST before assuming command on July 1, 2017.
North Dakota's 81st CST team, comprised of 22 full-time Army and Air Force National Guard personnel, was authorized by the Department of Defense in Nov. 2004. Since then, the unit members have participated in intensive technical training and rehearsals to prepare them for their potential missions. In Aug. 2006, the team successfully passed an exercise evaluation conducted by the US Army which validated their readiness to respond.
——
The North Dakota National Guard is a trained and highly motivated force of about 4,000 Citizen-Soldiers and Citizen-Airmen. We are always prepared to provide ready units, individuals and equipment in support of our communities, state and nation. Always ready, always there.
###
<< All News