<< All News
Tuesday, September 20, 2022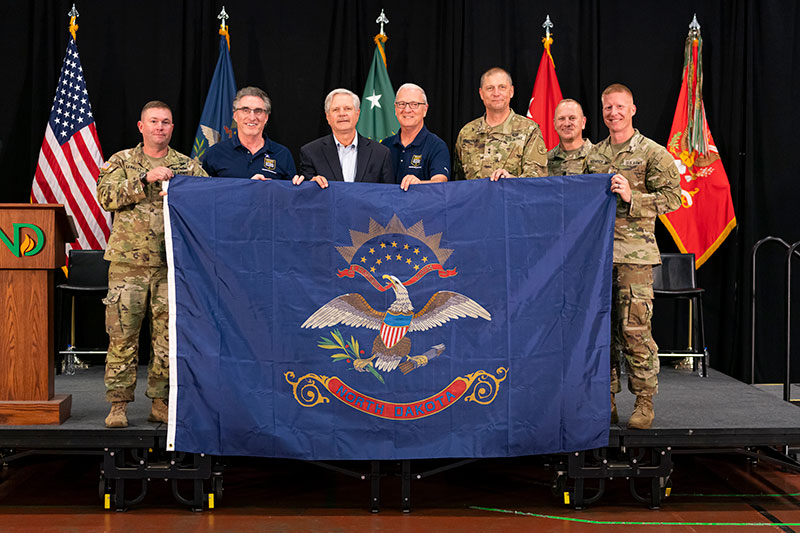 Grand Forks, N.D. — An audience of about 600 family members, friends, and fellow National Guard members gathered to welcome home about 225 North Dakota Army National Guard Soldiers, Sept. 18, 2022, on the campus of the University of North Dakota. The ceremony recognized the accomplishments of the Grand Forks-based 1st Battalion, 188th Air Defense Artillery Regiment (1-188th) and thanked the Families and employers for their support during their recent mission to the National Capital Region.
These Soldiers were mobilized from June 2021 to July 2022, where they collaborated with other Department of Defense agencies in protecting the airspace around the Washington, D.C. area, contributing to Operation Noble Eagle.
Governor Doug Burgum, commander in chief of the North Dakota National Guard, Sen. John Hoeven, Sen. Kevin Cramer, Maj. Gen. Al Dohrmann, North Dakota National Guard adjutant general, and Command Sgt. Maj. Eric Binstock, senior enlisted leader for the North Dakota National Guard, addressed the air defenders and their families.
"(There are) a lot of reasons to celebrate this unit, but one of them of course is that you've got the record of the most deployed unit, so the most storied unit, in the best National Guard in the nation," Burgum said, noting this was the unit's 11th deployment since 2004. "The North Dakota National Guard always lives up to its motto, 'Always Ready, Always There,' … and (we) know that you delivered that in a great way for our Capital Region. The fight for freedom never ends. We're grateful for your safe return."
The air defenders supported the Operation Noble Eagle mission twice before; from July 2013 to April 2014 and March 2017 to February 2018. Soldiers from this unit deployed to Kosovo as part of a NATO peacekeeping mission, six times to Afghanistan and twice to Iraq. They were also activated in response to the North Dakota floods in 2009 and 2011. Many Soldiers in the unit also volunteered for the state Covid-19 response from 2020 to 2022. Since the attacks on Sept. 11, 2001, this is the most deployed unit in the North Dakota Army National Guard.
"Anybody that's deployed with the farm boys and girls from North Dakota… know how incredibly dedicated and professional the North Dakota National Guard is, and the 1-188th sets the example," said Dohrmann. "You were doing the most important mission; you were defending the homeland. And it's not against some threat that could happen, it's against a threat that has already happened. You guys have to be at the tip of the spear, ready to go, and you absolutely were. You did a phenomenal job." Dohrmann also commended them for their many hours of volunteer work while in the National Capital. "Nobody says that you got to do that when you're deployed, but this organization, 1-188th, did 4000 hours of volunteer work around the D.C. area. You took time when an honor flight came to town to greet those veterans when they came off the plane… It's my honor to serve with you."  
About half of the Soldiers are veterans of previous deployments.
The unit is led by Maj. Alan Roehrich and Command Sgt. Maj. Russell Garrett and is headquartered in Grand Forks with detachments in Fargo and Bismarck.
——
The North Dakota National Guard is a trained and highly motivated force of about 4,000 Citizen-Soldiers and Citizen-Airmen. We are always prepared to provide ready units, individuals and equipment in support of our communities, state and nation.  Always ready, always there.
### 
High-resolution photos at Flickr album "1-188th ADA Welcome Home"
<< All News