<< All News
Tuesday, April 11, 2023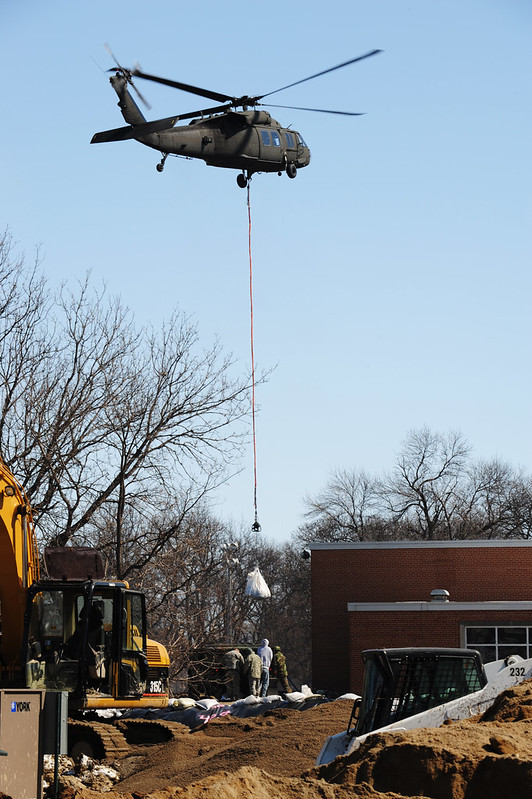 BISMARCK, N.D. — The North Dakota National Guard's Company C, 2nd Battalion, 285th Aviation Regiment will conduct one-ton sandbag training on Wednesday, April 12, and Sunday, April 16, in the vicinity of Kimball Bottoms near the Missouri River, south of Bismarck. This training will include all of the tasks involved in placing one-ton sandbags by Black Hawk helicopters and will occur in the parking area near the boat ramp. These large sandbags are used to block water and slow erosion during emergency flood response operations.
The use of one-ton sandbags in emergency response was last used on May 3, 2022, when Gov. Doug Burgum authorized the N.D. National Guard to assist in stabilization efforts on the Bourbanis Dam at the request of the Pembina County emergency manager. These large sandbags were also used during the Guard's 2009 flood response and in Minot during 2011 flooding.
The N.D. National Guard reminds the public to be aware of these training activities and to use extreme caution when in the area, since there will be military vehicles in the area in addition to aviation training. These activities will not close the river. The public's cooperation and understanding is appreciated.
WHAT: National Guard Aviation Training (One-ton sandbag placement)
WHEN: April 12; 2 p.m. through 6 p.m. and April 16; 10 p.m. through 6 p.m.
WHERE: Vicinity of Kimball Bottoms, south of Bismarck, North Dakota
——
The North Dakota National Guard is a trained and highly motivated force of about 4,000 Citizen-Soldiers and Citizen-Airmen.  We are always prepared to provide ready units, individuals and equipment in support of our communities, state and nation.  Always ready, always there.
###
Photos of historical response.
Flickr albums featuring one-ton sandbag placement:
"Bourbanis Dam Stabilization 050322"
"Minot One-Ton Sandbag Emplacement 062411"
"Lake LaMoure One-ton Sandbags 041909"
<< All News