<< All News
Tuesday, March 10, 2020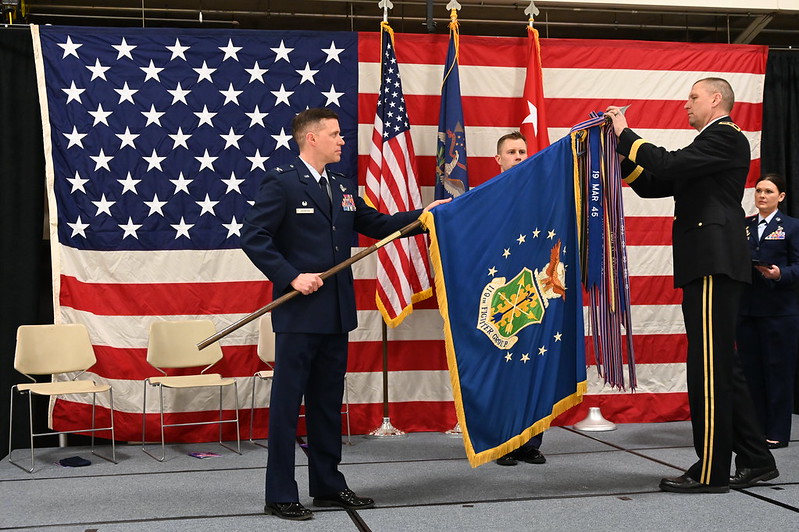 Happy Hooligans Awarded 21st Air Force Outstanding Unit Award
FARGO, N.D. — The 119th Wing, North Dakota Air National Guard, was formally presented their 21st Air Force Outstanding Unit Award (AFOUA) on March 7 in Fargo.
Brig. Gen. Todd Branden, North Dakota National Guard assistant adjutant general for air, presented the award to unit members and commended them for their exceptional service and mission accomplishment. "A unit doesn't have the legacy of 21 outstanding unit awards without building a culture of excellence that has been handed down for decades," said Branden. "This award is only possible because of the outstanding Airmen who are a part of the wing."
The award was accepted by Col. Darrin Anderson, 119th Wing commander, on behalf of the unit. "There are so many great accomplishments happening at the wing; content for the AFOUA nomination pours in every day," said Anderson. "Receiving our 21st AFOUA is a phenomenal achievement by the Happy Hooligans."
The AFOUA is awarded by the secretary of the U.S. Air Force to numbered units of the active-duty Air Force, U.S. Air Force Reserve and Air National Guard that have distinguished themselves by exceptionally meritorious service or outstanding achievement.
The recent award period was for achievements rendered from Oct. 1, 2017 to Sept. 30, 2018 in which the 119th Wing successfully executed combat and support operations for U.S. Central Command, U.S. Pacific Command, Air Combat Command and Air Force Global Strike Command. Notable accomplishments by the wing included mobilizing the 119th Aircraft Maintenance Squadron for a high-visibility, service-retained temporary duty, the 119th Intelligence, Surveillance and Reconnaissance Group continuing to lead the entire Air National Guard by increasing its target production output by 456 percent, and the 219th Security Forces Squadron facilitating a 98.7 percent sortie alert rate while safeguarding $3.3 billion in U.S. Strategic Command nuclear assets.
The Hooligans previously earned the award in 1971, 1973, 1979, 1992, 1993, 1994, 1995, 1997, 1998, 2001, 2006, 2007, 2008, 2010, 2012, 2013, 2014, 2015, 2016 and 2017.
——
The North Dakota National Guard is a trained and highly motivated force of about 4,000 Citizen-Soldiers and Citizen-Airmen. We are always prepared to provide ready units, individuals and equipment in support of our communities, state and nation. Always ready, always there.
###
<< All News