<< All News
Saturday, March 6, 2021 - 07:00pm
FARGO, N.D. — The North Dakota Air National Guard's 119th Wing, known as the "Happy Hooligans", welcomed a new co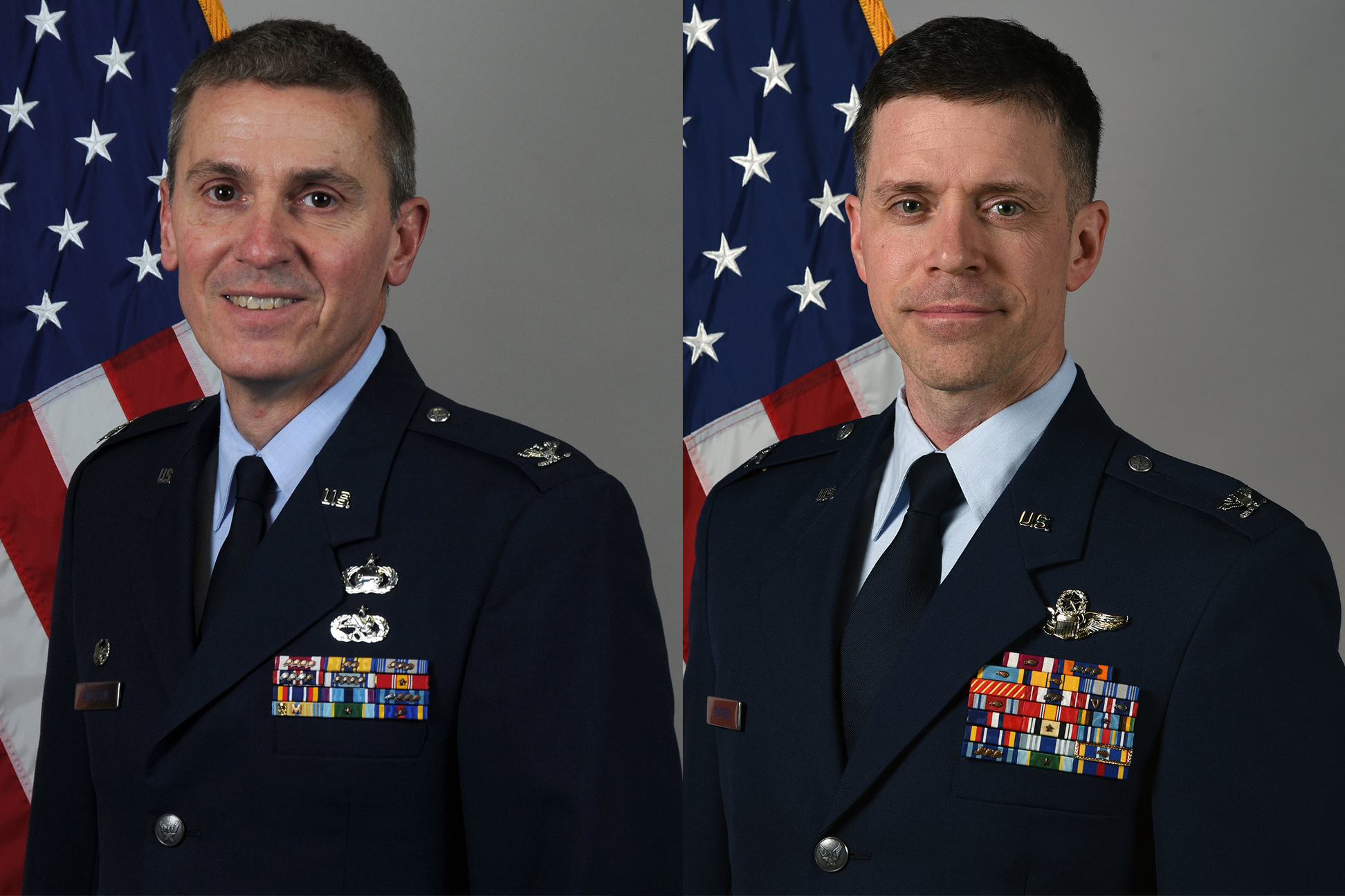 mmander during a change of command ceremony held at the Air National Guard base in Fargo, on March 6, 2021.
Col. Darrin Anderson relinquished command to Col. Mitch Johnson. Maj. Gen. Al Dohrmann, N.D. National Guard adjutant general, presided over the ceremony.
"I thank Col. Anderson for his service, leadership and vision," said Dohrmann. "Throughout his tenure as commander he has taken the Happy Hooligans to new heights through empowerment and innovation. I'm pleased he will remain with the North Dakota National Guard serving as our next Assistant Adjutant General – Air."
Anderson began his military career in 1983 when he enlisted in the North Dakota Air National Guard as a Security Specialist. He was commissioned in February 1995 at the Air National Guard Academy of Military Science and served in a myriad of assignments with the 119th Wing, to include intelligence officer, and various aircraft maintenance positions to include deputy commander of the 119th Maintenance Group. Anderson commanded the 119th Intelligence Surveillance Reconnaissance Group prior to assuming command of the 119th Wing Aug. 4, 2018. Anderson is a 1987 graduate of North Dakota State University, and a 2012 graduate of the Air War College, Maxwell Air Force Base, Ala.
Throughout his time as the 119th Wing commander, Anderson oversaw the successful execution of continuous federal missions while supporting the longest running domestic emergency response in the history of the North Dakota National Guard- the global pandemic of COVID-19. The Wing also earned its 21st and 22nd Air Force Outstanding Unit Awards during his tenure as commander.
"Looking ahead, I have great confidence that Col. Johnson will continue the great Hooligan legacy of unrivaled excellence as our new Wing Commander," added Dohrmann. "The North Dakota Air National Guard is fortunate to have such a highly qualified and skilled officer ready to lead this great organization."
Johnson began his career in the U.S. Air Force when he was commissioned as a second lieutenant in May 1997 from the U.S. Air Force ROTC Detachment 400 at Michigan Technological University. He was selected for an Air Force Institute of Technology (AFIT) Civilian Institution Program and earned his Master's Degree in 1998. Upon completion of pilot training, Johnson served in multiple flying assignments with the U.S. Air Force's Air Mobility Command (AMC), Air Education and Training Command (ATEC) and Air Force Special Operations Command (AFSOC) during his 12 years of active duty service in the U.S. Air Force. He has commanded at both the group and squadron level, piloted tactical airlift, special operations attack and remotely piloted aircraft worldwide and is credited with overseas service on six deployments. Johnson commanded the 119th Operations Group and was the vice commander of the 119th Wing prior to assuming command.
Johnson expressed his gratitude toward the Guard's senior leadership and thanked those who supported him along his journey and expressed great pride in the 119th Wing's Airmen.
"We always work together to overcome challenges and find a way to get the mission done," said Johnson. "Mission, team and people will be my focus areas during command."
——
 The North Dakota National Guard is a trained and highly motivated force of about 4,000 Citizen-Soldiers and Citizen-Airmen.  We are always prepared to provide ready units, individuals and equipment in support of our communities, state and nation.  Always ready, always there.
###
High resolution photos at Flickr album "119th Wing welcomes new commander"
<< All News