<< All News
Sunday, December 5, 2021 - 11:00pm
Categories: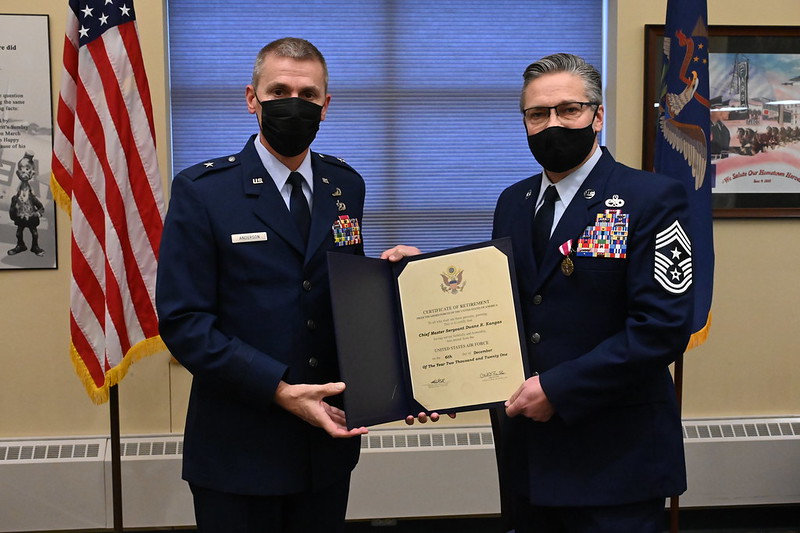 FARGO, N.D. — The North Dakota Air National Guard bid farewell to its senior enlisted leader Saturday, Dec. 4, as Chief Master Sgt. Duane "Dewey" Kangas retired during a ceremony at the base in Fargo. Brig. Gen. Darrin Anderson, North Dakota National Guard assistant adjutant general for air, presided over the ceremony. 
"A person like Dewey bounces from different jobs always in search of personal and professional growth," said Anderson during his remarks. "The career path he took was much more than timing, much more than being the right person at the right place and time – you have to work at that – and it
really fed into his ability to lead in a senior leadership position with the North Dakota Air National Guard."
In honor of his service and achievements during his more than 36-year career, Anderson presented the Meritorious Service Medal to Kangas during the ceremony.
As the state command chief master sergeant, Kangas advised senior North Dakota National Guard leaders on matters concerning discipline, morale, welfare, effective utilization, professional development and career progression of the state's Airmen.
"Representing the 119th as Command Chief was rewarding and humbling, and the great men and women of the wing made the job a lot easier as they kept winning outstanding unit award after outstanding unit award," said Kangas during his remarks. "It's been a great ride and I want you to know you are all like a second family to me, and I love you all."
Kangas, a native of Pine River, Minnesota, began his career upon his enlistment into the U.S. Air Force in September 1984. He completed technical training at Chanute Air Force Base, Ill., in March 1985 and served on active duty as an aerospace ground equipment mechanic until 1988. Kangas joined the North Dakota Air National Guard in 1989. He cross-trained in 2000 to become an F-16 aircraft maintenance phase inspector. In 2002, he was chosen for a quality assurance position, capitalizing on his many years of experience as an aircraft maintenance technician. In 2006, Kangas was selected as the 119th Civil Engineer Squadron first sergeant, a position that saw him deploy to five different countries in four years. In 2010, he was chosen as the 119th Mission Support Group first sergeant, and in 2011, he was selected as the 119th Wing first sergeant. Prior to his role as state command chief, Kangas served as the 119th Wing Command Chief from 2016 until 2020.  
The North Dakota National Guard is a trained and highly motivated force of about 4,000 Citizen-Soldiers and Citizen-Airmen. We are always prepared to provide ready units, individuals and equipment in support of our communities, state and nation. Always ready, always there.
###   
High resolution photos at Flickr album: CMSgt Kangas recognized during retirement ceremony
<< All News