<< All News
Monday, September 28, 2020
Categories:
By Sgt. Taryn K. Benton, 188th Army Band
The 188th Army Band provided outstanding musical support to their fellow Soldiers and to the communities of North Dakota in 2020 despite the limitations caused by the COVID-19 pandemic. The unit adapted to N.D. Smart Restart guidelines to resume their training and operations. Continuing their rich tradition of service, the 188th AB used music to bring people together during a time of isolation and uncertainty.
"Music resonates with people in ways that nothing else can, Even when our worlds are shattered, music can speak straight to the soul and bring hope and healing and peace." - Sgt. David Hathaway, 188th Ab.
Facemasks and social distancing rules were followed on drill weekends. The unit installed several hand sanitizing stations and frequently disinfected commonly touched surfaces. In order to maintain social distance and minimize the potential spread of the virus, the 188th AB rehearsed on the drill floor instead of the smaller concert band room.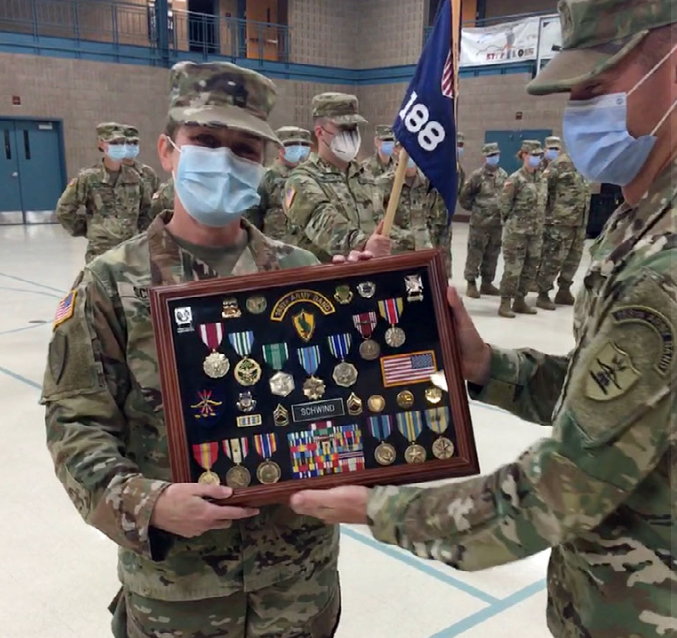 Utilizing safe practices allowed the 188th AB to bring hope and live music back to North Dakota. The band held socially distanced, outdoor concerts and the public was encouraged to use CDC recommended safe practices, such as bringing their own chairs and distancing themselves from each other. Livestreaming was also offered at these events, letting people who couldn't attend for any reason, experience the band's performances. This option gave the unit the ability to connect to their community, even in a time of doubt and social distancing. Moving forward, the 188 AB will look to continue to build on these digitally-centric avenues through Social Media and beyond.
Follow us on Facebook: @188AB - Instagram: @188thab

<< All News