<< All News
Tuesday, August 13, 2019 - 02:57 pm
Categories: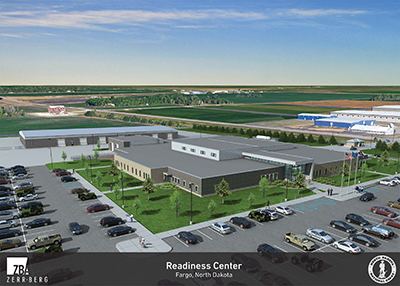 The North Dakota National Guard will host a groundbreaking ceremony celebrating the beginning of construction of their newest facility.  The groundbreaking program for the new Reserve Readiness Center will begin at 1:00 p.m., Wednesday, August 14 at the Fargo Armed Forces Reserve Center (AFRC). This facility will house units of the Fargo-based 141st Maneuver Enhancement Brigade (MEB).
Maj. Gen. Al Dohrmann, adjutant general, will host this groundbreaking ceremony for the new facility that will be located just west of the existing AFRC. The ceremony will begin at the AFRC and will adjourn to the nearly construction area for traditional first sod-cutting. Refreshments will be served after the ceremony.
This Readiness Center is a Fiscal Year 2019 Military construction project and will provide 155,000 square feet of usable space. Included within this space is a 96,000 square foot area for unit administrative offices; a 59,000 square foot unheated indoor vehicle storage facility; a security entrance building; a helipad; and other facilities needed to support the North Dakota Army National Guard units to stationed there. The cost of this facility is about $32 million and is scheduled to be completed by June 2021.
The public and media are invited to attend the ceremony
Who: North Dakota National Guard.
What: Groundbreaking for new National Guard Readiness Center.
When: 1 p.m., Wednesday, Aug 14.
Where: Fargo Armed Forces Center, 3920 31st St N, Fargo, N.D. 58102-6206
Media contact: Amber Schatz will be on site at 701-426-5205 (mobile).
--
The North Dakota National Guard is a trained and highly motivated force of about 4,000 Citizen-Soldiers and Citizen-Airmen. We are always prepared to
provide ready units, individuals and equipment in support of our communities, state and nation. Always ready, always there.
###
https://issuu.com/ndguardian/docs/fargo-groundbreakingaug2019
<< All News