<< All News
Thursday, August 11, 2022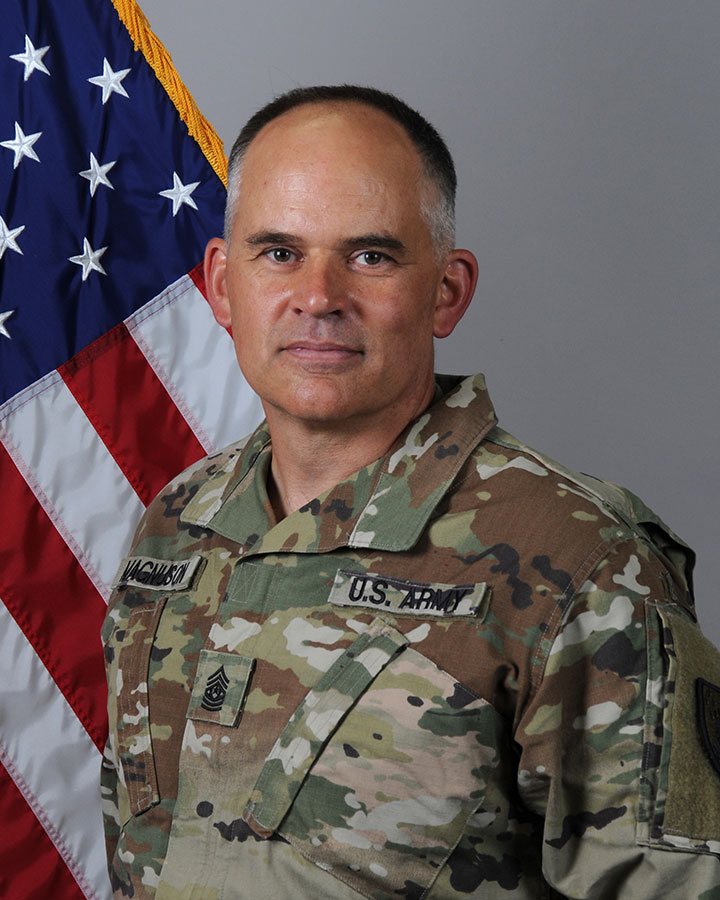 BISMARCK, N.D. — Maj. Gen. Al Dohrmann announced today that Command Sgt. Maj. Jason Magnuson was selected as the next senior enlisted leader (SEL) for the North Dakota National Guard.
Magnuson will succeed Command Sgt. Maj. Eric Binstock, who was recently named as the incoming state command sergeant major for the North Dakota Army National Guard. Binstock was assigned as the SEL January 2019.
Magnuson is expected to formally assume SEL duties in a change of responsibility ceremony planned for November.
The SEL partners with the adjutant general as the command team for the joint North Dakota Army and Air National Guard headquarters. The SEL serves as the principal policy advisor for all joint enlisted matters.  
"I selected Command Sgt. Maj. Magnuson for this important position in recognition of his more than three decades of military service and demonstrated exceptional leadership," said Dohrmann. "His advice and counsel will help ensure that the North Dakota National Guard enlisted force has a voice in all major decisions affecting our organization."
The SEL enforces policies and standards of performance, training, appearance, and conduct of enlisted Soldiers and Airmen. He advises senior leadership on recruiting, retention, training, resiliency, family support, community events, education, and employment.
Magnuson enlisted in the U.S. Marine Corps in 1989 and deployed twice overseas to the middle east in support of operations Desert Shield/Desert Storm from 1990 to 1991. He joined the North Dakota Army National Guard in 1994 and later deployed in support of Operation Iraqi Freedom from 2003 to 2004 with the 142nd Engineer Battalion.
Magnuson has served in several key leadership positions, including platoon sergeant, first sergeant, and command sergeant major at the battalion and brigade level. His current assignment is command sergeant major for the 141st Maneuver Enhancement Brigade in Fargo.
"I am honored to be selected to serve as the North Dakota National Guard's SEL," said Magnuson. "I look forward to serving the Airmen and Soldiers across this state, ensuring they have the best training and equipment to be prepared for any mission. Their readiness today is critical to our mission success tomorrow."
Magnuson holds a bachelor's degree in Agricultural and Biosystems Engineering from NDSU, an MBA from the University of Mary, and is employed full-time as a design engineer for Bobcat Company in Fargo.  
——
The North Dakota National Guard is a trained and highly motivated force of about 4,000 Citizen-Soldiers and Citizen-Airmen.  We are always prepared to provide ready units, individuals and equipment in support of our communities, state and nation.  Always ready, always there.
###
<< All News