<< All News
Sunday, June 6, 2021
Categories: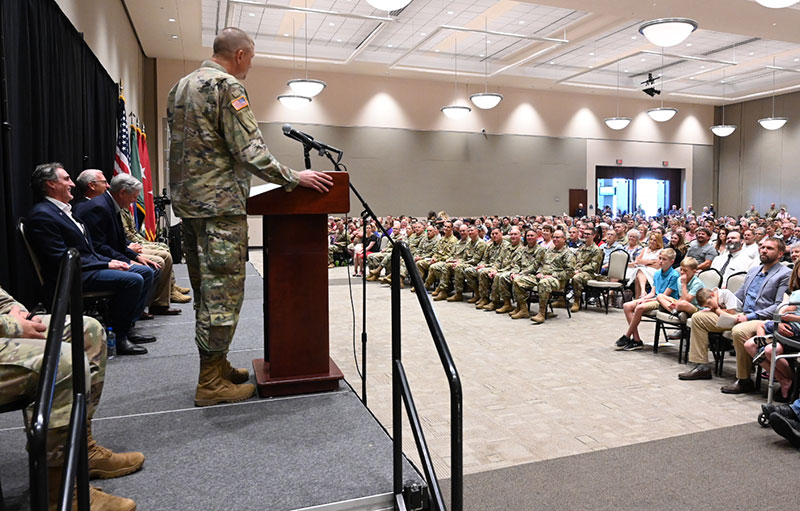 Grand Forks, N.D.  About 225 Soldiers of the North Dakota Army National Guard's 1st Battalion, 188th Air Defense Artillery (1-188th ADA) Regiment were honored today at a sendoff ceremony at the Alerus Center in Grand Forks in preparation of a long-year mobilization to the National Capital Region.  
Addressing the departing Soldiers were the commander-in-chief of the North Dakota National Guard Gov. Doug Burgum, U.S. Senator John Hoeven, U.S. Senator Kevin Cramer, Maj. Gen. Al Dohrmann, North Dakota National Guard adjutant general and Command Sgt. Maj. Eric Bindstock, North Dakota National Guard senior enlisted leader.  The unit is commanded by Lt. Col. Walyn Vannurden and the senior enlisted Soldier is Command Sgt. Maj. Russell Garrett.
"This is the 12
th
mobilization for the 1-188
th
ADA since 2004, making it the most-deployed unit in the North Dakota Army National Guard," said Burgum. "We are deeply grateful for their courageous service and sacrifice, and we acknowledge and appreciate the incredible service and sacrifice of their families as well. North Dakota stands in strong support of these families and our soldiers as they fulfill their duty to protect our nation and our most cherished freedoms." Their mission involves collaborating with other Department of Defense agencies forming the integrated air defense system protecting the airspace around the Washington, D.C. area. The Soldiers will contribute to
Operation Noble Eagle
.
"Once again our great air defender Soldiers are called upon to help protect the nation's capital. Your professionalism and expertise will ensure that your extremely important mission is successful," said Dohrmann. "I am also appreciative of the great support by all of our employers and communities like Grand Forks. We couldn't do our jobs without you."
The air defenders supported the Operation Noble Eagle mission twice before; from July 2013 to April 2014 and March 2017 to February 2018. Soldiers from this unit deployed to Kosovo as part of a NATO peacekeeping mission, six times to Afghanistan and twice to Iraq. The North Dakota National Guard also has about 70 Soldiers assigned to
Company C, 2nd Battalion, 285th Aviation Regiment
serving in the National Capital Region. They deployed November 2020 and are expected home later this summer.
——
The North Dakota National Guard is a trained and highly motivated force of about 4,000 Citizen-Soldiers and Citizen-Airmen.  We are always prepared to provide ready units, individuals and equipment in support of our communities, state and nation.  Always ready, always there.
###
<< All News