<< All News
Friday, April 8, 2022 - 06:00 pm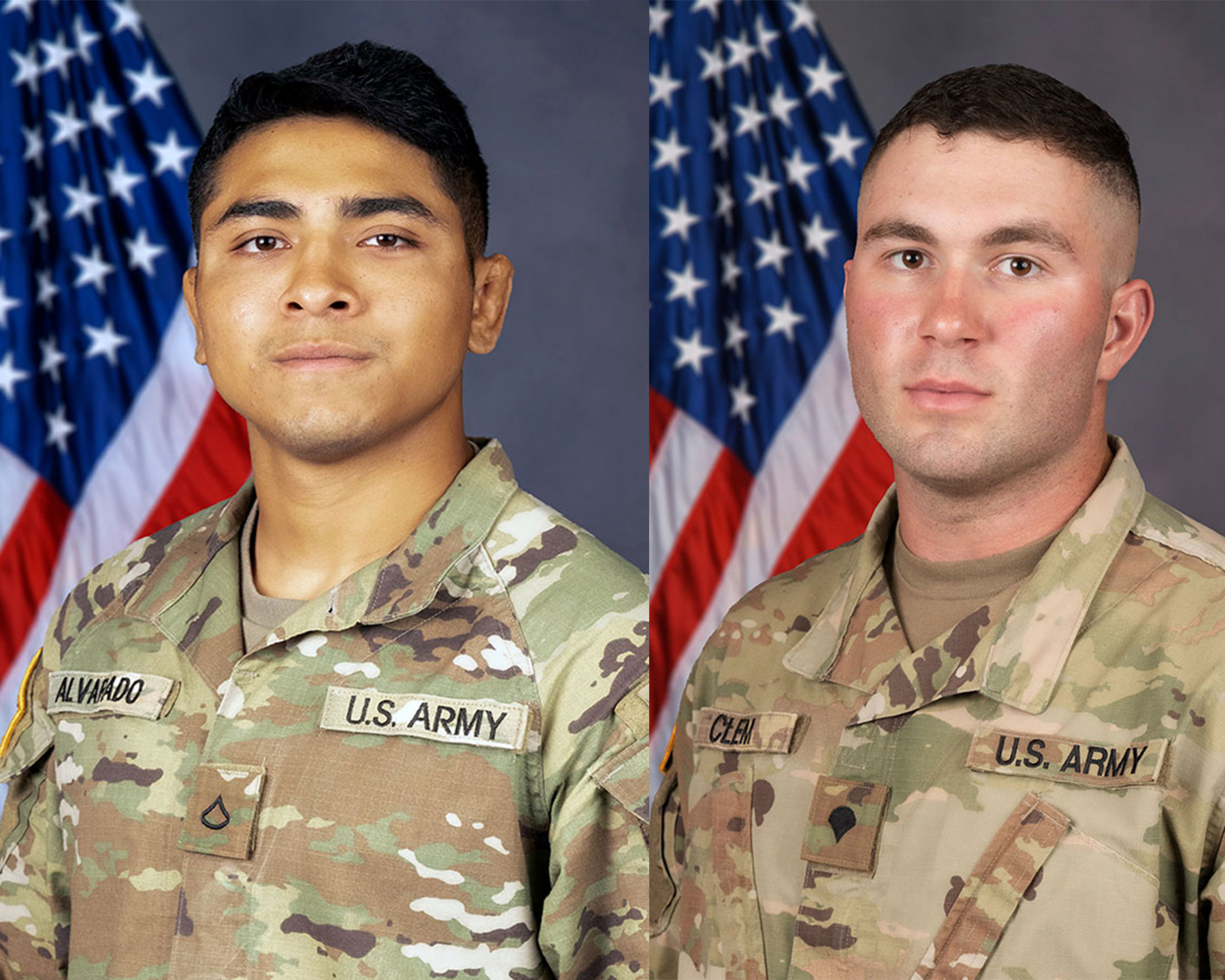 DEL RIO, Texas – North Dakota Army National Guardsmen rescued migrants from drowning while crossing the Rio Grande on March 22, 2022.
Specialists Luis Alvarado and Gracin Clem are assigned to Joint Task Force North, Task Force Legion in Del Rio, Texas, and were conducting Mobile Surveillance Camera (MSC) site operations for Customs and Border Protection (CBP) in support of the federal southwest border mission when the Soldiers observed five migrants attempting to cross the Rio Grande River.
The migrants were halfway across the river but struggled to stay above water due to strong currents and high winds. Alvarado, fluent in Spanish, attempted to shout instructions to the migrants on how to cross the river safely.
"We've heard stories that the water gets pretty rough, but I honestly wasn't expecting it," said Alvarado.
Realizing they were unsuccessful in communicating, the two soldiers immediately reached for the nylon rope lifelines they had received from Border Patrol Agents that morning. Two of the migrants went underwater, and the remaining three were struggling.
"This was the first day back to that MSC site in two months, and we were given the lifelines that day," said Clem. "There wasn't time to be scared; it wasn't an option."
Clem and Alvarado reacted swiftly by tying two lifelines together to send to the drowning individuals, but the currents proved too swift.
"It wasn't an option to watch these people drown," Clem said.
Clem then swam a lifeline to two migrants, rescuing them separately while the other three migrants managed to get across the water successfully.
"You hope that in the moment, you react the right way and can do your job the way you were trained to do it," Alvarado said.
The migrants reported to CBP agents, who rendered aid and transported them for further treatment/processing.
"We are deeply grateful to these North Dakota National Guard Soldiers for performing truly lifesaving work as they support the efforts to secure the southern border", said North Dakota Gov. Doug Burgum. "Their courage and commitment to helping others in their time of need is incredible. Our National Guard Soldiers are the best in the nation and continually live up to their motto of 'Always Ready, Always There.'"
Alvarado and Clem are assigned to the North Dakota National Guard's 957th Engineer Company (Multi-role Bridge) and have served at the southwest border since autumn 2021.
"These heroic actions demonstrate the unyielding commitment of our Guard members to preserve lives while in the service of our nation," said Maj. Gen. Al Dohrmann, North Dakota adjutant general. "Our entire chain of command is extremely proud of the actions of all our Soldiers."
As U.S. Northern Command's lead, Joint Task Force North provides military support to the Department of Homeland Security, Customs, and Border Protection. The Department of Defense's mission-enhancing support enables Customs and Border Protection to address security challenges and conduct their law enforcement mission more efficiently along the Southern border.
——
The North Dakota National Guard is a trained and highly motivated force of about 4,000 Citizen-Soldiers and Citizen-Airmen.  We are always prepared to provide ready units, individuals and equipment in support of our communities, state and nation.  Always ready, always there.
###
<< All News