<< All News
Monday, August 23, 2021
Categories: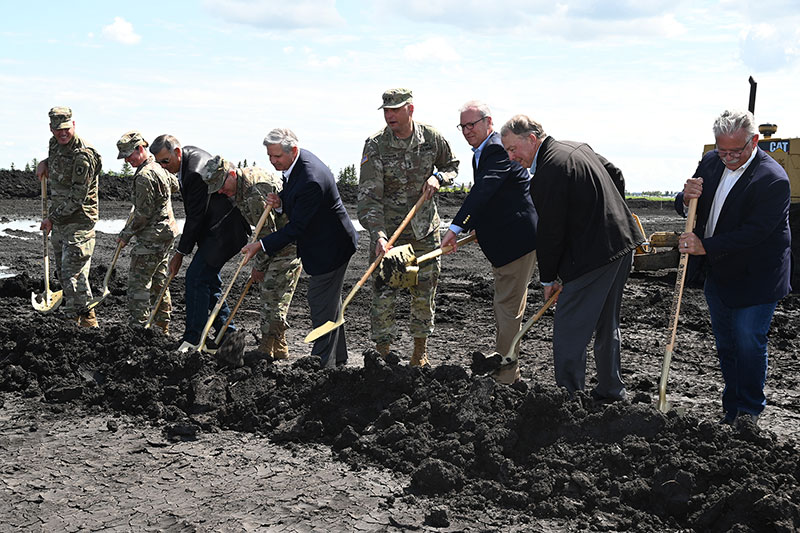 FARGO, N.D. — The North Dakota National Guard will conduct two separate events celebrating facilities on Tuesday, August 24 in Fargo.
The Happy Hooligans of the 119th Wing will host a groundbreaking ceremony for its $17.5 million military construction project at the North Dakota Air National Guard Base. The groundbreaking is set for 10 a.m. Construction on this building, a consolidated operations facility for use by the 119th Operations Group, is scheduled to begin in the fall.
Later that day, the North Dakota Army National Guard will host a building dedication of the Fargo Readiness Center with a ribbon cutting at 1:30 p.m.  After the ceremony, the media is invited to tour the new building. The building will serve as headquarters and operating offices for the 141st Maneuver Enhancement Brigade, some of its subordinate units as well as their vehicles and equipment.
Groundbreaking of the Fargo Readiness Center was August 14, 2019. The cost of the facility is approximately $29 million and consists of a 96,000 square foot readiness center and a more than 59,000 square foot unheated vehicle storage building. The facility is located west of the existing Fargo Armed Forces Reserve building and will be the new home of the N.D. National Guard's 141st MEB, 191st Military Police Company, and Company D, 1st Battalion, 112th Aviation Regiment.
N.D. Air National Guard groundbreaking
What: Groundbreaking for N.D. Air Guard Consolidated Operations Facility
When: 11:00 a.m., Tuesday, August 24
Where: N.D. Air National Guard Base, 1400 32nd Ave N, Fargo, N.D. 58102
N.D. Army National Guard ribbon cutting
What: Ribbon cutting, Fargo Readiness Center
When: 1:30 p.m., Tuesday, August 24
Where: 3400 40th Avenue North, Fargo, N.D. 58102
——
The North Dakota National Guard is a trained and highly motivated force of about 4,000 Citizen-Soldiers and Citizen-Airmen.  We are always prepared to provide ready units, individuals and equipment in support of our communities, state and nation.  Always ready, always there.
<< All News