<< All News
Monday, September 28, 2020
Categories:
by Lt. Col. (retired) Shirley J. Olgeirson, NDNG Historian
Seventy-five years ago, North Dakota Army National Guard Soldiers were arriving home from both sides of the globe. The 188th and 957th Field Artillery Battalions celebrated victory against a diabolical dictator and the 164th Infantry Regiment helped defeat an evil emperor. A mere five years later, many of the same Soldiers were again federalized for the "Korean Conflict".
By September 1950, the 231st Engineer Battalion, from Grand Forks, Bottineau, Minot, and Cavalier, had been federalized and stationed at Ft Lewis, WA. A year later, the Battalion was sent to Nevada to begin construction on Camp Desert Rock Nevada Test Site, including fortifications at atomic test sites for explosions that began in October 1951. Personnel assigned to the camp were provided booklets that explained the importance of secrecy and were prohibited from discussing the tests, the military maneuvers, or any effects they felt from the tests. Troops kept their secrets well, as little is known about the experiences of the 231st Engineers at the camp.
In January, 1951, the 164th Infantry Regiment and the 188th Field Artillery Battalion were ordered to Active Military Service with the 47th "Viking" Division, Minnesota, and traveled by train to Camp Rucker, Alabama. There, they trained Soldiers and units in infantry and artillery skills. North Dakotans were ordered to serve overseas as replacements, based on the needs of the active Army units fighting in Korea. 164th Infantry Regiment's Soldiers came from units in Bismarck, Fargo, Grafton, Rugby, Williston, Carrington, Valley City, Jamestown, Wahpeton, Dickinson, Hillsboro, Grand Forks, Hettinger, Linton, Cando, Edgeley, Mott, Harvey, Oakes, and Devils Lake. 188th Field Artillery Battalion units were located in Mandan, Lisbon, Minot, Jamestown, Wishek, and Grand Forks.
The Fargo-based 178th Fighter Squadron and the 178th Weather Station (Type A), were called to active duty on April 1, 1951. Only 5 years old at the time, the 178th was assigned to Moody Air Force Base (AFB), near Valdosta, Ga., as part of the Strategic Air Command. Later the units moved to George AFB, Near Victorville, Calif., as part of the Tactical Air Command, flying F-51 Mustangs to augment the air defenses of the United States. Individuals served in Korea, one of whom was retired Maj. Gen. Alexander P. Macdonald, who flew 36 combat missions. The 178th Fighter-Bomber Squadron was released from active duty on January 1, 1953 and was redesignated the 178th Fighter Interceptor Squadron. The Runway Alert program began August, 1954 in Fargo as the squadron kept two F-51D Mustangs on alert status 14 hours a day.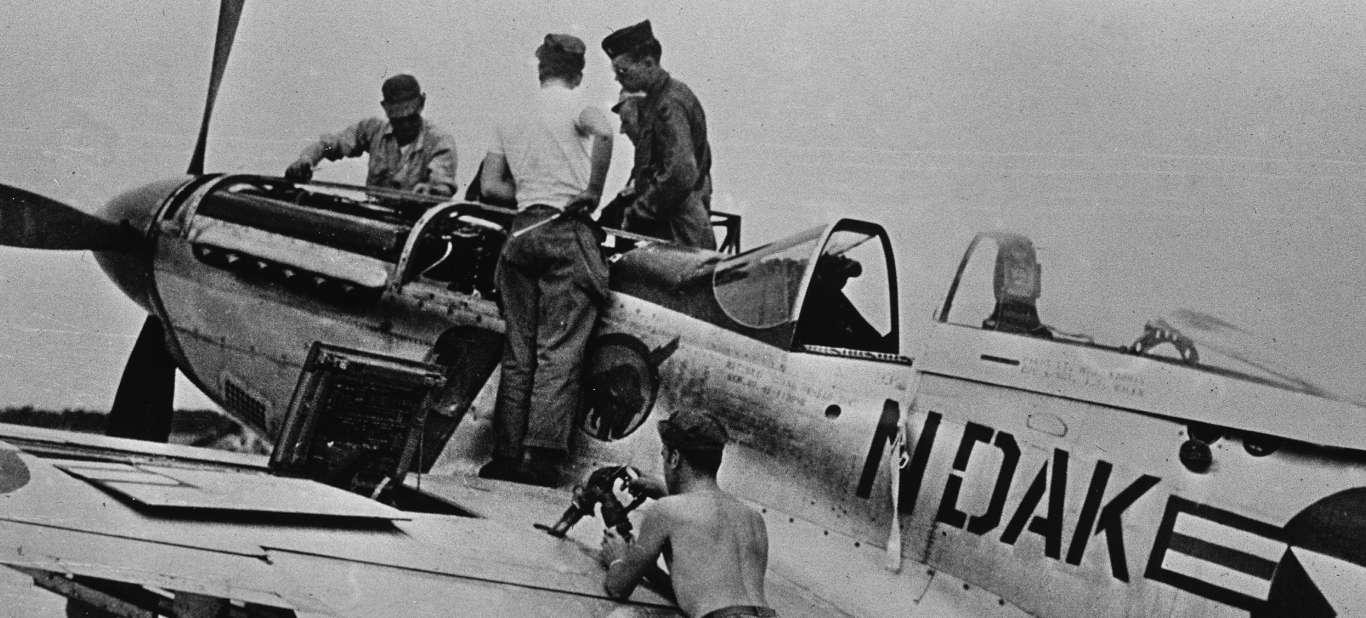 << All News