<< All News
Friday, January 15, 2021 - 02:44pm
Categories: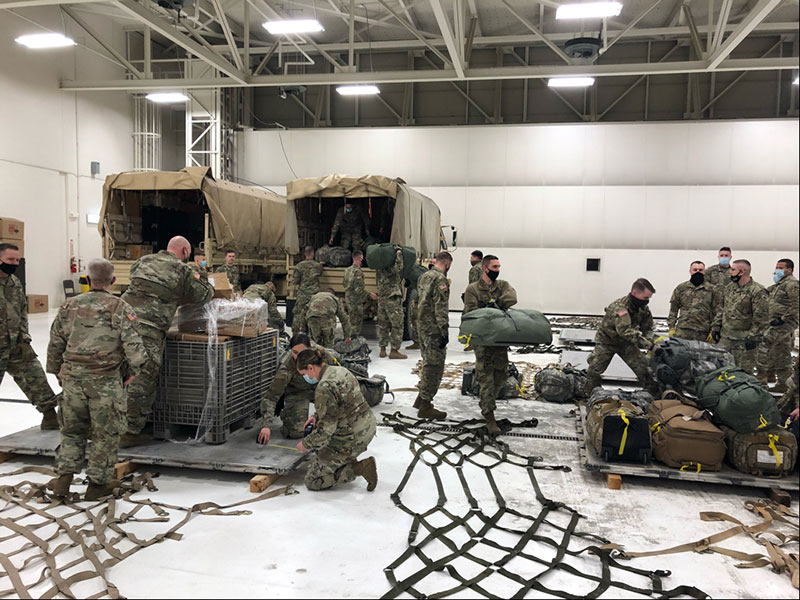 BISMARCK, N.D. — The N.D. National Guard adjutant general, Maj. Gen. Al Dohrmann announced additional support to the Jan. 20 presidential inauguration in Washington, D.C.
Approximately 130 Soldiers from the 816th Military Police Company will join 20 previously scheduled N.D. Guard members in support of the 59th presidential inauguration. The unit is headquartered in Dickinson, N.D., with a detachment in Bismarck.
Some Soldiers departed this afternoon with the balance departing over the weekend via three Air National Guard transport aircraft.  
"We are responding to a request from the D.C. National Guard seeking assistance," said Dohrmann. "I continue to be proud of our Soldiers' and Airmen's ability to quickly respond when asked to serve. This short-term mobilization will not affect our ability to support the COVID-19 fight or any potential security operations within our state if called upon."
Nationwide, the National Guard provides a myriad of support capabilities that can be seamlessly integrated with interagency partners to enhance inauguration support. These capabilities include security, communications, medical evacuation, and logistics. This support is in keeping with the National Guard's role in homeland security.
The N.D. National Guard continues to provide the governor and civilian authorities properly manned, trained, and equipped forces whenever and wherever they are needed.
——
The North Dakota National Guard is a trained and highly motivated force of about 4,000 Citizen-Soldiers and Citizen-Airmen.  We are always prepared to provide ready units, individuals and equipment in support of our communities, state and nation.  Always ready, always there.
###
<< All News