<< All News
Saturday, March 6, 2021
FARGO, N.D. — The North Dakota National Guard presented Tech. Sgt. Ryan Fontaine The Woodrow W. Keeble "Je Suis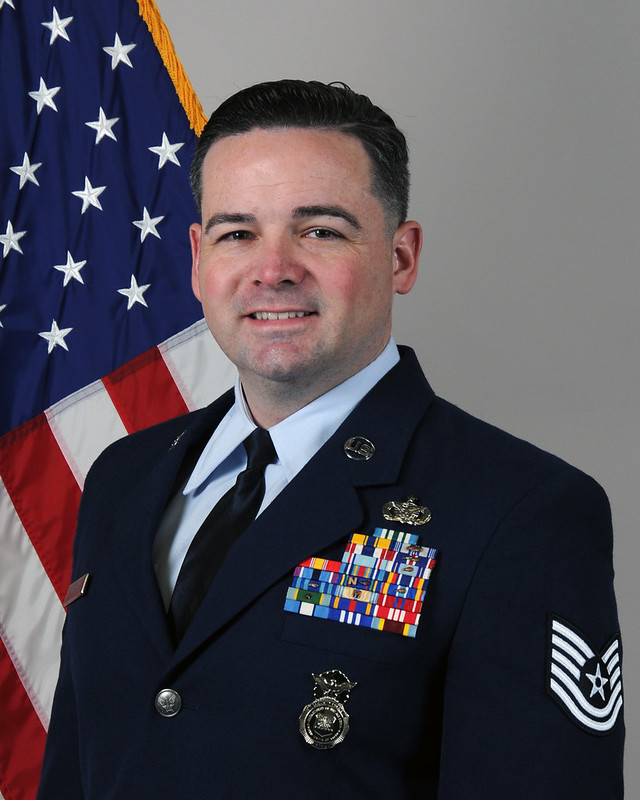 Pret" (I am Ready) Award during a presentation ceremony at North Dakota Air National Guard Base, Fargo, N.D., March 6, 2021.
Fontaine, of the Minot Air Force Base-based 219th Security Forces Squadron, earned the Keeble award for his participation in the rescue of 91 year-old Dolores Paulson. Paulson was trapped in an ambulance that slid off U.S. Highway 83 and sinking in a frozen pond the night of Nov. 28, 2019.
The ambulance was dispatched from Williston, N.D., Fire Department Station 2 to transfer Paulson from a Minot, N.D., medical facility to another in Bismarck, N.D.
According to the Williston Fire Department, "Ryan dove into the freezing water to help extricate the patient. Ryan and Engineer Hassan Jabbar where able to secure a tow strap to the patient and direct rescue efforts to pull her and the remaining crew members to dry land. The selflessness of Ryan's actions saved the life of the patient and ensured the safety of the Williston Fire Department crew members. The heroic actions of Ryan Fontaine were above and beyond the call of duty. The City of Williston will be forever grateful for his actions."
Gov. Doug Burgum presented Fontaine with the award. He's the first North Dakota National Guard Airmen to receive this distinction.
"Tech. Sgt. Fontaine embodies the spirit of the Keeble award, said Burgum. His selfless act of valor displayed in those icy waters on that fateful day in November exemplify the courage and professionalism that we've come to know and expect from our North Dakota Guard members."
The award is named in honor of Master Sgt. Woodrow "Woody" Wilson Keeble, a North Dakota National Guard member who served in World War II and the Korean War. Keeble was awarded the Medal of Honor posthumously March 2, 2008 for courageous actions he took while serving with Company G, 19th Infantry Regiment of the 24th Infantry Division in Korea.
 ——
The North Dakota National Guard is a trained and highly motivated force of about 4,000 Citizen-Soldiers and Citizen-Airmen.  We are always prepared to provide ready units, individuals and equipment in support of our communities, state and nation.  Always ready, always there.
###
High resolution photos at Flickr album "TSgt Fontaine receives the Woody Keeble Award"
<< All News