<< All News
Saturday, April 10, 2021 - 12:00 pm
Categories: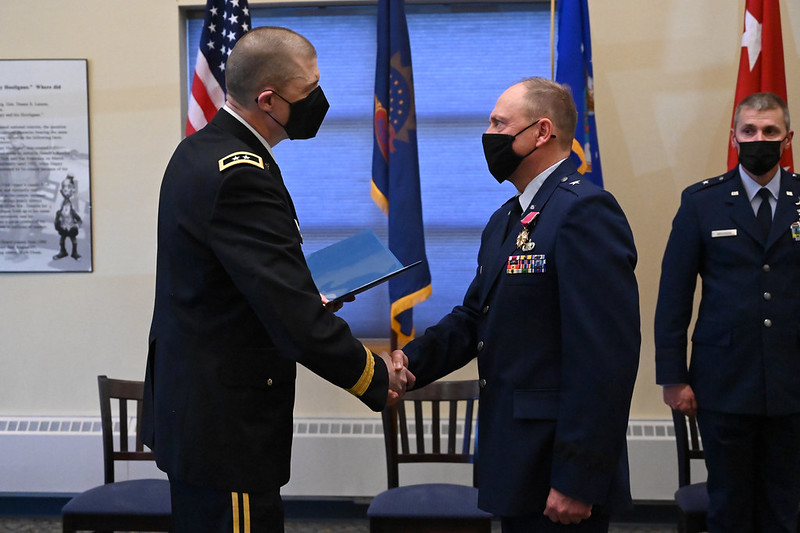 FARGO, N.D. — Brig. Gen. Darrin K. Anderson became the newest North Dakota National Guard general officer today
during a promotion ceremony at the Air National Guard Base, Fargo which was live streamed. With this promotion to general officer, Anderson assumes the duties of the North Dakota National Guard assistant adjutant general for Air from Brig. Gen. Todd M. Branden, who was honored during a retirement ceremony.
Anderson previously served as the commander of the 119th Wing, nicknamed the "Happy Hooligans" from August 2018 to March 2021, while Branden has been the assistant adjutant general for Air since October 2017.
Guests included Sen. Kevin Cramer and Maj. Gen. Al Dohrmann, North Dakota adjutant general who congratulated Anderson on what he called a well-deserved promotion.
"Darrin Anderson's dedicated service to the North Dakota Guard, his wealth of experience and ability to be a visionary, strategic-thinking leader has led to this promotion," said Dohrmann.
Anderson thanked the Airmen of the 119th Wing reminding those present that all the citations and accolades are due to the hard work and talent of the 'Hooligans.'
"This is a remarkable organization that all of you helped build and sustain, and I can't thank you all enough," Anderson said.
Anderson said he tried to capture in words what the 'Hooligan Way' consists of, "very strong culture, a tireless work ethic, a spirit of innovation, empowerment and tenacity."
After the promotion ceremony, the audience members bid farewell to Branden during a retirement ceremony paying tribute to his 42 years of service to the North Dakota National Guard.
"Today we honor a man who's served a lifetime," Dohrmann said. "Congratulations on an incredible career; it has been a distinct honor to serve with you."
Dohrmann presented Branden with the Legion of Merit which is awarded to a member of the U.S. Armed Forces who has distinguished himself or herself by exceptionally meritorious conduct in performing outstanding services.
Branden said his memories won't be about the awards, missions and accolades but rather the names and faces of the people he worked with throughout his career. He rendered a final salute to the members of the 119th Wing before the reading of the retirement order.
————
The North Dakota National Guard is a trained and highly motivated force of about 4,000 Citizen-Soldiers and Citizen-Airmen. We are always prepared to provide ready units, individuals and equipment in support of our communities, state and nation. Always ready, always there.
###
High resolution photos at Flickr album "
Anderson Promoted, Branden Retires
"
<< All News