<< All News
Thursday, August 29, 2019 - 02:00 pm
Categories: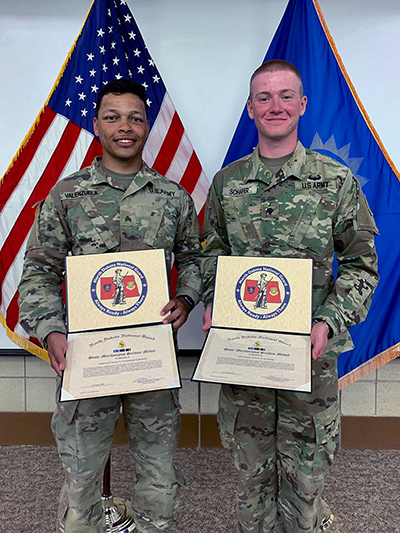 DEVILS LAKE, N.D. — Seventeen Army National Guard soldiers from across the state pushed through physical and mental challenges to try to outscore their fellow competitors during this year's Best Warrior Competition (BWC) Aug. 15-18 at Camp Grafton Training Center, near Devils Lake. Each Soldier was tested on various warrior tasks over the competition's four days.
When the winners were announced during the final day's awards ceremony, two Army Guard members earned the opportunity to represent North Dakota in an upcoming regional competition. Sgt. Joao Valenzuela, of the Grand Forks-based Headquarters and Headquarters Battery, 1st Battalion, 188th Air Defense Artillery Regiment, was the winner in the noncommissioned officer category. In the Soldier category, Spc. Grant Schafer of the Dickinson-based 816th Military Police Company, took top honors.
"It feels amazing to win," said Valenzuela. "All of the hard work proved to be worth the time invested. You get to compete against some of the best Soldiers from the across the state. I have to give a shout-out to these Soldiers, because they all helped one another out at every step of the BWC by helping build motivation and improving everyone's confidence. It's great and rewarding feeling knowing that everyone tried their best all four days of the competition."
The BWC began with the Soldiers testing their physical endurance during the Army Combat Fitness Test. From there, competitors donned their Army Service Uniforms to compete in Soldier knowledge boards, where they answered a series of military-related questions and inspected uniforms for deficiencies. Next, the Soldiers completed a public affairs interview, written exam and uniform inspection.
Schafer found the competition to be extremely challenging. "There were some tasks and events that I hadn't encountered before, but I made up for those events by doing well on those events I was familiar with."
The competitors began their second day at 3:30 a.m. by locating positions using only compasses and printed maps on a land navigation course during the hours of darkness. Other events that day were daytime land navigation, weapons firing and a 6-mile foot march with a weighted backpack of at least 30-35 pounds.
Preparation for BWC can include months of physical training and studying various military manuals and consulting Soldier study guides.
"In order to win this competition, a Soldier must be physically fit and mentally prepared in all categories of events," said Command Sgt. Maj. Dave Lien, state command sergeant major for the North Dakota Army National Guard. "I applaud the efforts of all of these Guard members as they demonstrated their best efforts and teamwork during this entire competition."
The remainder of the weekend tested the Soldiers' physical and mental toughness with a confidence course and rappel tower as well as evaluations on a number of basic military tasks that all Soldiers are required to know regardless of military occupational specialty.
"It's important to stay focused and on-task," said Spc. Emma Hoover, Headquarters and Headquarters Battery, 1st Battalion, 188th Air Defense Artillery Regiment. "Because it's the BWC, the evaluators make regular tasks like marksmanship more challenging by creating distractions to test your concentration. I've never fired a weapon before under these conditions."
The winners, Valenzuela and Schafer, were awarded the North Dakota National Guard State Meritorious Service Medal. Other participants were presented the North Dakota National Guard State Commendation Medal as the weekend came to a close.
Valenzuela and Schafer will advance to the Region VI competition, which will be held at Fort Meade, S.D. in May 2020. They will compete against Guardsmen from seven other states: Alaska, Idaho, Montana, Oregon, South Dakota, Washington and Wyoming. Winners move on to All-Guard Competition with an opportunity to compete in the All-Army Competition later in that year.
State runners-up would compete in regional competition if winners were unavailable. This year, noncommissioned officer category second place went to Sgt Jonathan Schmidt, 818th Engineering Company while the runner-up in Soldier category was Spc. Zachary Fischer, 188th Army Band.
——
 The North Dakota National Guard is a trained and highly motivated force of about 4,000 Citizen-Soldiers and Citizen-Airmen. We are always prepared to provide ready units, individuals and equipment in support of our communities, state and nation. Always ready, always there.
###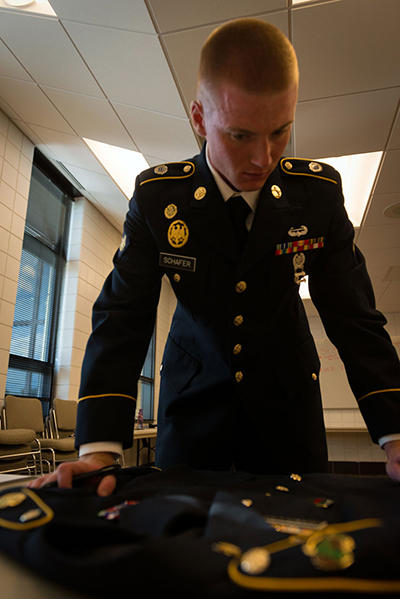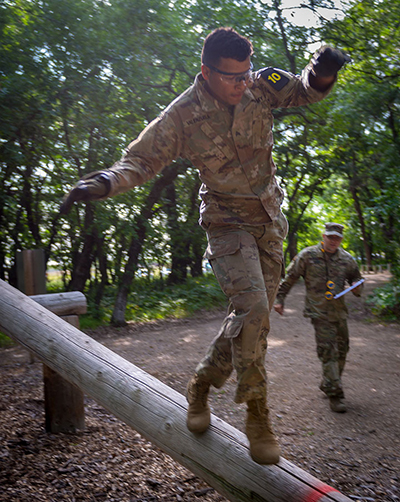 << All News