<< All News
Wednesday, May 15, 2019 - 10:30 am
Categories: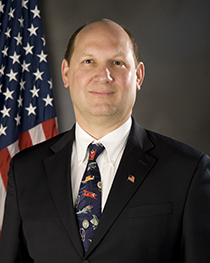 Mike Lynk was appointed director of State Radio on January 7, 2009.  He previously served as a special agent with the North Dakota Bureau of Criminal Investigation, both as an investigator and more recently as the coordinator of the North Dakota Fusion Center. Lynk has a strong background in law enforcement and security and has worked as a patrol officer for the City of Beulah, North Dakota, for K-9 Security in Grand Forks, North Dakota, and since 1999 has worked security for the Minnesota Vikings Training Camp in Mankato, Minnesota, most recently as on-field supervisor.
During his time at State Radio, Lynk made upgrading technology a high priority in order to better serve the citizens of North Dakota in their greatest time of need.
"Whenever people call 9-1-1, they are probably having the worst day of their life, and it is incumbent upon us to ensure that we have high standards," Lynk said. "It is imperative to give our dispatchers the tools they need to be able to accomplish their jobs."
Under Lynk's leadership, State Radio implemented the following technology with its State and Local partners:
Computer Aided Dispatch (CAD)
Dispatch Radio council and phone (NextGen 911) equipment
Message Switch upgrades
Records Management System (RMS)
Backup Dispatch Center
IP connectivity to State Radio Tower
Improvements to the Land Mobile Radio System (LMR) by adding additional towers and three mobile repeater towers.
Lynk's forward-thinking led to the development of Bank 5, a set of channels used in every public safety radio in North Dakota for mutual aid situations. The Bank 5 concept was presented nationally and has been used in other states providing interoperable communications for public safety.
As Director, he says he most appreciated working with the outstanding dedicated employees at the Department of Emergency Services and the public safety officials in the State of North Dakota.
"Helping others in need is the best job anyone can have," Lynk said. "I've had a lot of support from those around me that allowed me to have such a rewarding career."
"For more than a decade, Mike's reserved and thoughtful leadership has bettered our state's response capabilities and, in turn, has enhanced safety measures to provide help for North Dakota citizens in times of need," said, Maj. Gen. Al Dohrmann, North Dakota adjutant general. "His foresight in introducing new technologies and systems within State Radio also has allowed for better collaboration between our local, state and federal partners. We will miss seeing Mike here at the Department of Emergency Services, wish him well in retirement and congratulate him on an impactful and fruitful career of service."
"Not only is Mike a true professional but he is also a personal friend and I will definitely miss him," said Cody Schulz, Director of ND Homeland Security.  "Mike brought a diverse background to State Radio and has a global understanding of public safety communications.  His proven track record of constantly improving systems and processes throughout the state will continue to benefit us for years to come.  We wish him the best in his retirement." 
Lynk is a graduate of Bismarck State College, Dickinson State University, the North Dakota Law Enforcement Academy, and the FBI National Academy. He has specialized training in electronic surveillance, and narcotic, criminal and terrorism investigations. Lynk also served as hazardous material site safety officer and conducted computer analysis. In addition, he has been an incident command instructor and has taught weapons of mass destruction courses for law enforcement at the North Dakota Law Enforcement Academy in Bismarck and the Lake Region College Law Enforcement Program in Devils Lake, North Dakota.

Lynk and his wife Cindy have been married for 36 years and have two children. They reside in Bismarck, North Dakota. His hobbies include flying, home repair, woodworking, and family. Lynk is active with church and has been involved in Boy Scouts, coordinating Eagle Boards of Review for the Frontier Trails District in Bismarck. Lynk's two sons are both Eagle Scouts.
For More Information Contact:
Rob Keller, Public Information Officer
North Dakota Department of Emergency Services
701-328-8154
robkeller@nd.gov
<< All News