<< All News
Monday, September 9, 2019 - 12:00 pm
Categories: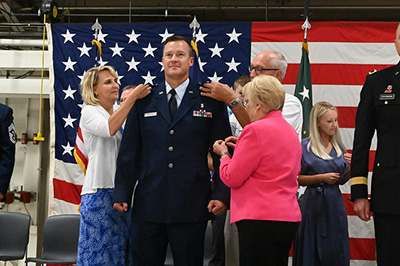 FARGO, N.D. — Brig. Gen Robert A. Schulte became the newest North Dakota National Guard general officer during a promotion ceremony on Saturday at the Air National Guard Base in Fargo. Schulte will assume the duties of the North Dakota National Guard Joint Force Headquarters chief of staff for Air.
"Bob Schulte is a true citizen Airmen, a father, husband, professor, business owner, a pillar in his community and an Air Guard officer and he has balanced these roles for years," said Maj. Gen. Al Dohrmann, North Dakota adjutant general. "Bob is all about getting the mission done, he thinks outside the box, is a visionary and is the right guy at the right time to lead this organization into the future."  
 
"The Happy Hooligans culture has had a big impact on me," said Schulte. "This is a world class organization and I am so blessed to be a part of it. To the men and women of the North Dakota Air National Guard, to the best of my ability and as long as I can, I am going to give you everything I got."
 
In 1993, Schulte earned a direct commission in the U.S. Air Force's Biomedical Science Corps and served three years with the 55th Medical Group, Offutt Air Force Base, Omaha, Neb. Following active duty service, he was assigned to the 934th Airlift Wing, U.S. Air Force Reserve, Minneapolis, Minn. In 1999, Schulte transferred to the North Dakota Air National Guard and served as a physical therapist and later commander of the 119th Medical Group, 119th Wing. As the senior medical officer, he supervises, directs the use of base medical resources and advises the commander on medical issues in support of the wing and the remotely stationed 219th Security Forces Squadron, Minot Air Force Base. He received his Bachelor of Science degree in physical therapy from Chicago Medical School, Illinois, and Doctorate of Science from Rocky Mountain University of Health Professions, Provo, Utah. In his civilian profession, he's an associate professor, Physical Therapy at the University of Mary, Bismarck.
 
After North Dakota's general officer was welcomed, audience members bid farewell to Brig. Gen. Bob J. Becklund during a retirement ceremony and paying tribute to his 37 years of service to the National Guard. During the ceremony, Dohrmann presented Becklund with the Distinguished Service Medal in recognition of his military achievements.
 
"Bob Becklund is a talented pilot and a great leader. He led the Happy Hooligans through one of the most difficult transition periods in its history, and he did so with composure and vision," said Dohrmann. "Bob is an approachable and humble leader, his top priority has always been to take care of the Airmen and Soldiers of this organization. Congratulations on an incredible career; it has been a distinct honor to serve with you."
 
"I can't believe that nearly 38 years has gone by so fast. "I have one simple message, and that is a message of thanks," Becklund told the audience of Guard members, family and friends. "There isn't a person in this room that hasn't had an impact on me, from my mentors to the youngest Airmen. No one gets here on their own and I am very grateful for the opportunity to serve these outstanding Airmen in the 119th Wing."  
 
Becklund enlisted as a flight simulator technician in 1982, he received his commissioned through Airman and culminated his career as the North Dakota National Guard Joint Force Headquarters chief of staff for Air and as the full-time deputy adjutant general for the North Dakota National Guard.
 
From 2004 to 2009, he served as the commander of the 119th Fighter Wing. During his command, the wing went through an unprecedented change from manned to remotely piloted aircraft. His leadership solidified the paradigm shift in the North Dakota Air National Guard, broadening the mission focus which includes intelligence, targeting and nuclear security missions, placing the Happy Hooligans at the forefront of innovation expertise in military remotely piloted aircraft operations. His counsel and leadership has been a driving force to the continued excellence of the North Dakota Air National Guard.
 
The North Dakota National Guard is a trained and highly motivated force of about 4,000 Citizen-Soldiers and Citizen-Airmen. We are always prepared to provide ready units, individuals and equipment in support of our communities, state and nation. Always ready, always there.
###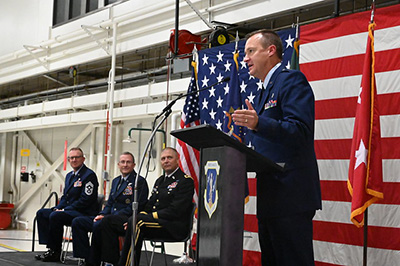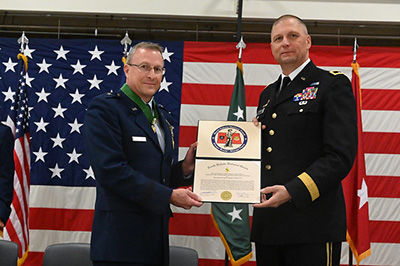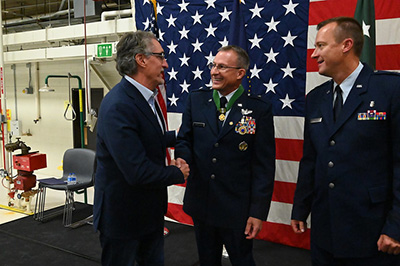 << All News