<< All News
Sunday, March 5, 2023 - 11:00pm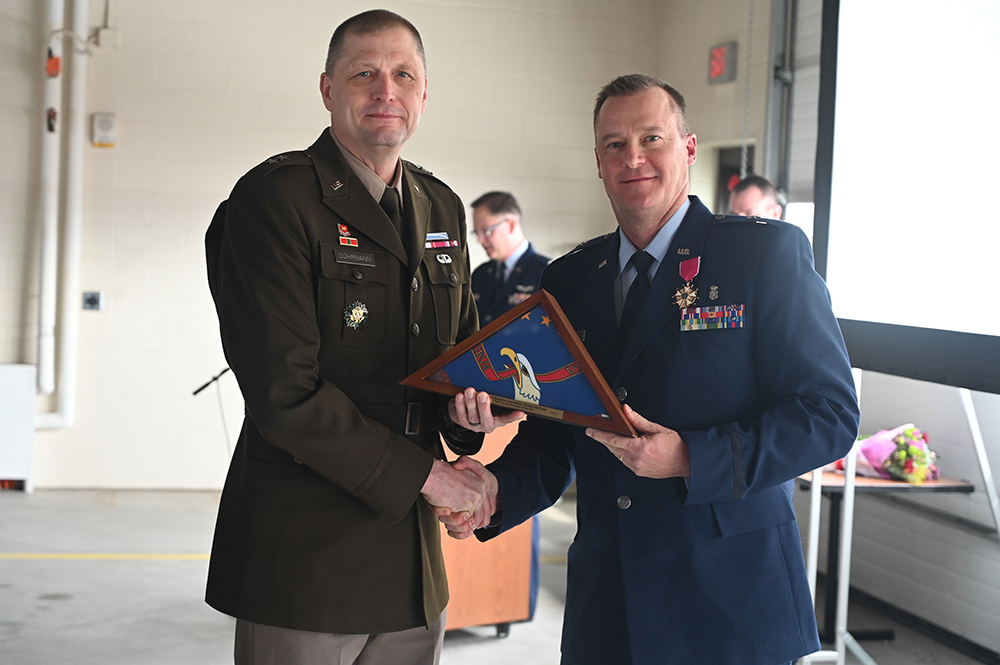 FARGO, N.D. – The North Dakota Air National Guard bid farewell to Brig. Gen. Robert Schulte, during a retirement ceremony in his honor, March 5, at the Air National Guard Base in Fargo.
"Brig. Gen. Bob Schulte has faithfully served our state and country for three decades, and we are incredibly grateful," said Gov. Doug Burgum, commander in chief of the North Dakota National Guard. "We honor and salute his dedicated work and leadership which has improved the lives of North Dakotans and contributed to the security of our citizens, state and nation. Lt. Gov. Tammy Miller and First Lady Kathryn Burgum join me in wishing him continued success in his future endeavors."
Maj. Gen. Al Dohrmann, North Dakota National Guard adjutant general, presided over the ceremony witnessed by family, friends and fellow Happy Hooligans.
"Bob Schulte has dedicated his life to serving his community, state and nation, setting an example of what it means to be a Citizen-Airmen," said Dohrmann during his remarks. "Under his leadership, North Dakota was able to rapidly increase COVID-19 testing capability from a couple of hundred to several thousand tests per day. His efforts brought piece of mind to our citizens and provided the data health officials needed to fight the pandemic."
In honor of his service and achievements during his 30-year military career, Dohrmann presented Schulte the Legion of Merit.
Serving as the North Dakota National Guard's chief of staff for Air, Schulte provided guidance and direction necessary to ensure all state and federal missions assigned to the Air National Guard were efficiently accomplished on time and to standard.
"Working with the great team of Soldiers, Airmen and civilians at the Joint Force Headquarters has been one of the best experiences I've ever had." said Schulte. "The North Dakota National Guard can accomplish any mission when our talented pool of service members work together".
Schulte's military service began in the Biomedical Science Corp in 1993, serving three years with the U.S. Air Force's 55th Medical Group, Offutt Air Force Base, Neb. Following his active duty commitment, he was assigned to the U.S. Air Force Reserve's 934th Airlift Wing, Minneapolis, Minn. from 1996 - 1999. In 1999, Schulte joined the North Dakota Air National Guard serving in a variety of medical positions culminating as the commander of the 119th Wing's Medical Group from 2012 – 2019. In September 2019 he was appointed as the North Dakota National Guard's Chief of Staff – Air.
——
The North Dakota National Guard is a trained and highly motivated force of about 4,000 Citizen-Soldiers and Citizen-Airmen.  We are always prepared to provide ready units, individuals and equipment in support of our communities, state and nation.  Always ready, always there.
###
High resolution photos at Flickr album "Brig Gen Robert Schulte Retires"
<< All News