<< All News
Wednesday, November 20, 2019 - 10:00am
Categories: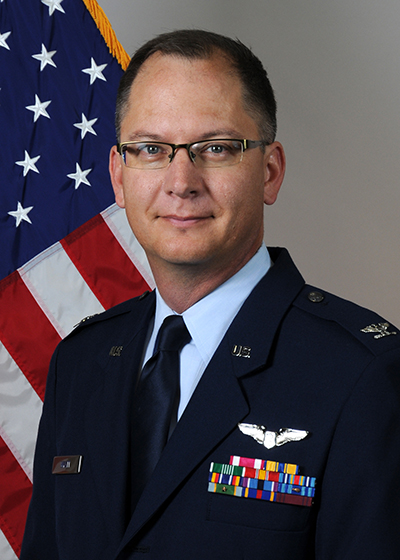 FARGO, N.D. — Col. Joseph Wyatt was recently promoted to the rank of colonel and assumed the command of the 119th Medical Group in Fargo. Wyatt has served with the N.D. Air National Guard's 119th Wing since 2016.
A native of Huron, South Dakota, Wyatt entered the military in 2001 with the Indiana 122nd Medical Squadron as a Flight Surgeon. His military career continued in Alabama with the 100th Fighter Squadron and 187th Fighter Wing. While assigned to the Alabama Air National Guard, , Col. Wyatt deployed with the RC-26 Condor and provided medical care as a first-responder while participating in Hurricane Katrina relief operations. These efforts earned him the Meritorious Service Medal. Col. Wyatt also served with the 114th Fighter Wing in South Dakota.
A 1994 graduate of James Valley Christian High School in Huron, South Dakota, Wyatt received his Bachelor's degree with honors in biology and psychology from Purdue University in 1998. He completed his Doctorate of Medicine in 2002 from the Indiana University School of Medicine. In 2008 Wyatt concluded his education at the University of Alabama Birmingham with his Urology Residency.
Dr. Wyatt works at Avera St. Mary's Hospital, Pierre, where he currently practices urology and serves on the governing board.
He resides in Pierre with his wife, Rachel, and their six children.
High definition photos on Flickr: "Wyatt Assumes Command of 119th Medical Group"
——
The North Dakota National Guard is a trained and highly motivated force of about 4,000 Citizen-Soldiers and Citizen-Airmen.  We are always prepared to provide ready units, individuals and equipment in support of our communities, state and nation.  Always ready, always there.
###
<< All News