<< All News
Tuesday, April 18, 2023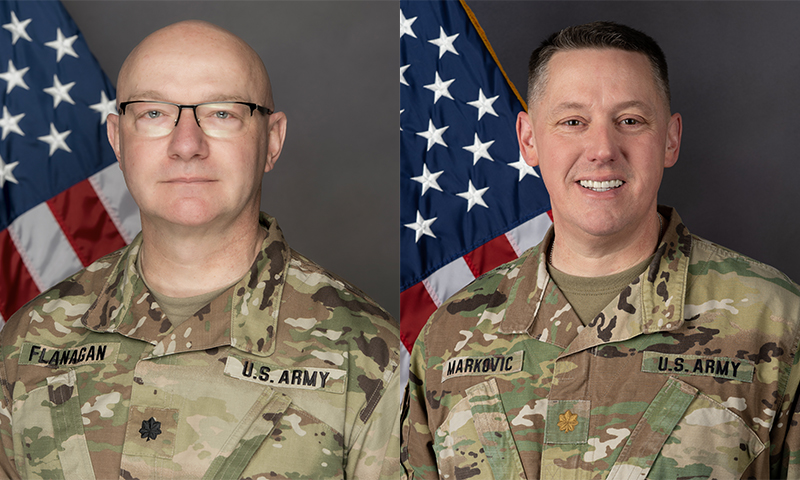 BISMARCK, N.D. — The North Dakota National Guard's 81st Civil Support Team (CST) welcomed a new commander today at the National Guard's headquarters at Fraine Barracks in Bismarck.  
Maj. Shawn A. Markovic assumed duties as commander from Lt. Col. Pat R. Flanagan who has led the CST since January 2020. Col. Paul Helten, commander, 68th Troop Command, presided over the change of command ceremony.
The change of command ceremony is a time-honored military tradition that represents the formal transfer of authority and responsibility for a unit from one commanding officer to another. The event is witnessed by members of the unit, as well as other military members, families and friends.
During the ceremony, Flanagan received a Meritorious Service Medal in recognition of the CST's accomplishments during his tenure as commander. Some of his accomplishments included the North Dakota National Guard's COVID-19 response, where he served as a trusted agent within the Unified Command structure overseeing the CST in supporting 60 mobile mass testing events which resulted in 30,000 samples collected. He supervised the planning and execution of the CST's Mission Readiness Airlift movement for the Arctic Eagle-Patriot exercise conducted in Alaska, March 2022. His leadership helped ensure his unit passed two training Proficiency Evaluations and Standardization Evaluation inspections. And last fall, the CST expertly assisted the Williston Police Department with the execution of a search warrant for an individual suspected of possessing bomb making materials.
"Pat Flanagan did an outstanding job commanding this diverse and complex unit during challenging times to include the North Dakota National Guard's longest emergency response in its history – COVID-19," said Helten. "His leadership and ability to mentor young officers and Soldiers was also invaluable to his tenure as commander."
Flanagan enlisted in the North Dakota Army National Guard in 1989 and was commissioned as a second lieutenant with the U.S. Army Medical Service Corps in 2000. His previous assignments include serving as a preventive medicine officer, patient administrative officer, commander of the N.D. Army National Guard's Medical Detachment and served as the North Dakota National Guard's state family program director. Besides commanding the CST, Flanagan has experience within the team as the nuclear medical science officer and deputy commander. He will serve as the G-1 deputy director of personnel until he assumes duties as the G-6 chief information officer autumn 2023.
Markovic's military service began when he enlisted in the North Dakota Army National Guard's 957th Engineer Company in 1987. He earned his commission as a second lieutenant from Officer Candidate School in 2003 and returned to the 957th Engineer Company as a platoon leader. He deployed to Iraq in 2007 to 2008 as the commander of Headquarters and Headquarters Company, 164th Engineer Battalion. After this deployment he was assigned as the 141st Maneuver Enhancement Brigade's J-5 MEB Plans officer; S-3 operations and training officer for the 164th Regional Training Institute and 68th Troop Command. In 2020 he became deputy commander of the 81st CST.
"Shawn Markovic is the right choice to serve as this team's new commander," added Helten. "His technical expertise combined with his complete familiarity with the team obtained while serving as deputy commander, will ensure the professionalism and continued success of the 81st CST."
North Dakota's 81st CST team, comprised of 22 full-time Army and Air Force National Guard personnel, was authorized by the Department of Defense in Nov. 2004. Since then, the unit members have participated in intensive technical training and rehearsals to prepare them for their potential missions. In Aug. 2006, the team successfully passed an exercise evaluation conducted by the US Army which validated their readiness to respond. 
——
The North Dakota National Guard is a trained and highly motivated force of about 4,000 Citizen-Soldiers and Citizen-Airmen.  We are always prepared to provide ready units, individuals and equipment in support of our communities, state and nation.  Always ready, always there.
###
Factsheet: National Guard Weapons of Mass Destruction/Civil Support Team
<< All News