<< All News
Thursday, September 15, 2022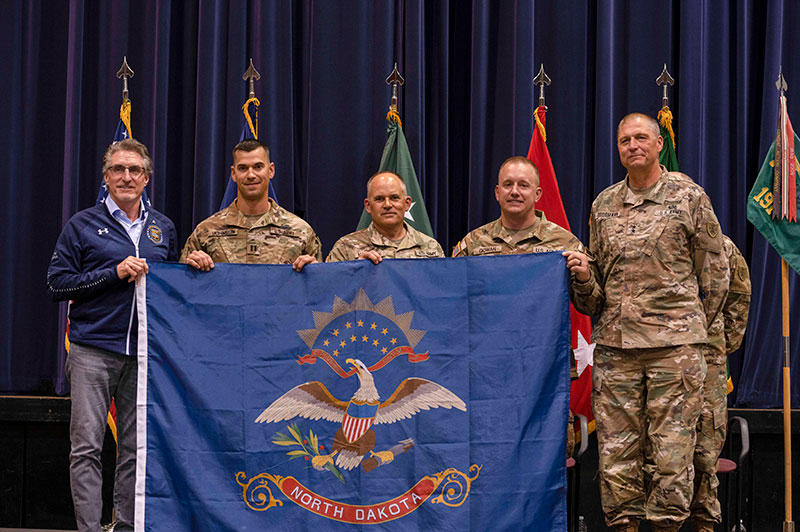 Fargo, N.D. — An estimated audience of over 1,200 family members, friends, and fellow National Guard members gathered to honor about 155 Soldiers assigned to the Fargo-based 191st Military Police (MP) Company at the Fargo Civic Center on Sept. 14, 2022.
The unit will deploy overseas for about year in support of U.S. Central Command's area of operations and is led by Capt. Nathan Johnson and 1st Sgt. Jeremy Gowan.
Gov. Doug Burgum, commander in chief of the North Dakota National Guard, and Maj. Gen. Al Dohrmann, adjutant general, addressed the Soldiers and Families during the ceremony.
"The greatest honor of all is the opportunity to be the commander-in-chief of the incredible North Dakota National Guard, the best National Guard unit in the country. And we don't just say that as a phrase, we say it because it's true. We hear it over and over again … and I know that this group, the 191st, on this deployment will again be the pride of North Dakota in the work that you do," Burgum said. "You've answered the call to serve, and we salute you. We look forward to the celebration when you all return safely, and in the meantime, you are going to be in our thoughts and prayers."
Alerted for possible deployment last March, the Soldiers are deploying overseas for a yearlong mission in support of U.S. Central Command's (CENTCOM) Operation Spartan Shield.
Dohrmann thanked the audience for attending before addressing the families. "To the families here, you are the unsung heroes of our military. You serve everyday with your outstanding support to your loved one in uniform," said Dohrmann. "Soldiers, be sure to show your Families gratitude by thanking them for backing you each and every day."
He also cited the importance of the great community and employer support enjoyed by the North Dakota National Guard. "We couldn't do our jobs without these great patriots."
The adjutant general also encouraged the Soldiers to tell the story of their military service, Guard experience and to learn and share the rich history of the 191st Military Police Company.
The unit is headquartered in Fargo with a detachment in Grand Forks. In 2012, about 30 Soldiers served at Guantanamo Bay, Cuba, for nine months and about 180 Soldiers served in Iraq from 2008 to 2009. In January 2021, about 60 Soldiers from the unit served with the 816th Military Police Company in support of the 59th Presidential Inauguration in Washington, D.C.
——
The North Dakota National Guard is a trained and highly motivated force of about 4,000 Citizen-Soldiers and Citizen-Airmen.  We are always prepared to provide ready units, individuals and equipment in support of our communities, state and nation.  Always ready, always there.
###
<< All News