<< All News
Saturday, August 24, 2019 - 12:35 pm
Categories: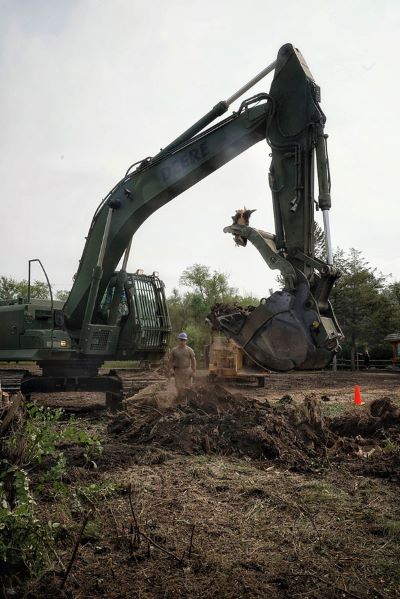 GARRISON, N.D. - Recently, about twenty-five Soldiers of the North Dakota National Guard's Wahpeton-based 188th Engineer Company (VERTICAL) assisted the Minot YMCA by improving the grounds of the Triangle YMCA camp near Garrison. The area is owned by the U.S. Army Corps of Engineers and is leased to the YMCA.
The camp was hampered by debris in three old shelter belts consisting of dead, rotting trees. This rubble impeded the YMCA's camp staff's ability to have sufficient area to properly conduct youth activities. The YMCA asked for the Guard's assistance under the auspices of DoD's Civil-Military Community (CMC) project. The CMC is an unfunded civil-military community assistance program meaning the National Guard will not be reimbursed for costs incurred while participating in this project.
"This type of project is why the CMC program exists," said Maj. Gen. Al Dohrmann, North Dakota adjutant general. "It allows our Army engineers the opportunity to get quality training on important skills while simultaneously addressing a need within our communities".
The unit used this clearing and grubbing project to exercise their horizontal, or earth-working skills. Although the 188th Engineer Company's assets consist of mostly vertical, or construction-skilled Soldiers, there is a section with earthmoving equipment. 
"This project was successful for our Soldiers and for the YMCA," said Capt. Joe Johnson, commander of the 188th Engineer Company. "We were able to conduct quality training to improve our skill sets while achieving the camp's expectations for the project. As always, our mission success was ensured thanks to the great support provided by our families and civilian employers of our Guard Soldiers."
The engineers worked on this project during their 2019 Annual Training (AT) Aug. 1 to 13 and are expected to complete the work during their next AT in 2020.
"We look forward to returning next year to complete the project," added Johnson.
There's a process to gain authorization for National Guard assistance. Similar to other projects, environment and other assessments on the project are required. Finally, the project must provide a military unit quality training of the tasks they must be able to accomplish as part of their mission. 
A Guard committee reviews the project scope, plans and funding availability, and determines if the necessary skill set and training time were available within the North Dakota National Guard. They also check with the contractor's association to ensure that National Guard involvement did not compete against a private business. Once requirements were satisfied, the project plan moved up the chain for approval at the Department of Defense level.
For further information on CMC projects contact the North Dakota National Guard Public Affairs office at 701-333-2129 or visit www.NDGuard.nd.gov. 
--
The North Dakota National Guard is a trained and highly motivated force of about 4,000 Citizen-Soldiers and Citizen-Airmen. We are always prepared to provide ready units, individuals and equipment in support of our communities, state and nation. Always ready, always there.
###
<< All News