<< All News
Tuesday, March 16, 2021 - 12:01 pm
Categories: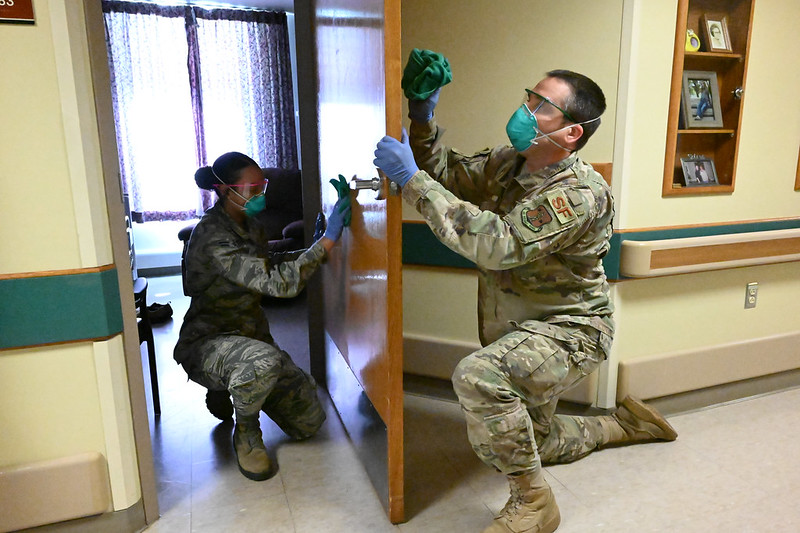 BISMARCK, N.D. — Today the North Dakota National Guard marks its one-year anniversary of COVID-19 response operations in support of state and community health agencies. The first North Dakota Guard members were activated for COVID-19 duty on March 16, 2020.
The ongoing COVID-19 support mission is the largest and longest state mobilization in North Dakota history. On Nov. 19, 2020, the North Dakota National Guard logged 67,495 personnel-days surpassing the previous record of 67,264 personnel-days recorded during response efforts in support of 2011 state-wide flooding. As of March 15, the North Dakota National Guard has logged 97,914 personnel-days of support in this mission.
"We are deeply grateful for the incredible contributions of the men and women of the North Dakota National Guard who have risen to the challenges presented by this historic pandemic," said Gov. Doug Burgum. "Their dedicated service and support has been critical in our whole-of-government response to this unparalleled threat to public health, and our entire state is thankful."
Members of the North Dakota National Guard have supported the North Dakota Department of Health and local municipal health agencies during this response. Soldiers and Airmen have planned, conducted and administered traditional and later the BinaxNOW COVID-19 tests to include support at mobile testing sites state-wide. North Dakota Guard members have conducted strategic response planning and deep cleaning at long-term and congregate living facilities. Soldiers and Airmen have also trained civilians in the use of BinaxNOW testing, assisted in the administering of COVID-19 vaccines, and aided in the design of prediction models which help guide response and assisted with contact tracing. Guard members have also aided in the transportation of test specimens and provided other support to the state laboratory in Bismarck and administered vaccines to its force in accordance with CDC tiered COVID-19 Vaccine rollout recommendations. Also, Maj. Gen. Al Dohrmann, North Dakota adjutant general, has co-led the state's Unified Command during state's response to the pandemic.
"I salute our Guard Soldiers, Airmen and civilian employees for their exceptional efforts and unyielding dedication in support of our state and communities during this unprecedented pandemic", said Dohrmann. "We remain indebted to our families and employers for their understanding and support over the past year. Without them, we would not be successful."
The North Dakota National Guard's other state and federal missions continue despite the pandemic. The Guard recently conducted wildfire and flood response exercises, welcomed Airmen home from overseas duty, mobilized and deployed 70 Soldiers of the Bismarck-based Company C, 2nd Battalion, 285th Aviation Regiment to the National Capital Region, as well as 150 Soldiers in support of the 59th Presidential Inauguration. The North Dakota National Guard also conducted Vigilant Guard last summer, an exercise program sponsored by U.S. Northern Command (USNORTHCOM) in conjunction with the National Guard Bureau (NGB) designed to improve operational relationships with civilian and military partners at the local, state, regional and national levels.
Currently the Fargo-based 119th Wing has begun its overseas deployment of over 100 Airmen while about 50 Soldiers of the Devils Lake-based 835th Engineer Utilities Detachment and 225 Air Defense Artillery Soldiers from the Grand Forks-based 1st Battalion, 188th Air Defense Artillery Regiment are training for possible mobilizations in support of U.S. Central Command (USCENTOM) and in support of the National Capital Region's air space protection, respectfully.
North Dakota Guardsmen have supported, and will continue to support the response to this pandemic as long as they are needed. About 988 individual North Dakota Soldiers and Airmen have served on COVID-19 response duty, with about 240 assigned today.
——
The North Dakota National Guard is a trained and highly motivated force of about 4,000 Citizen-Soldiers and Citizen-Airmen.  We are always prepared to provide ready units, individuals and equipment in support of our communities, state and nation.  Always ready, always there.
--###--
Video: N.D. Guard COVID-19 Response
High resolution photos at Flickr album: N.D. Guard - One Year of COVID-19 Support
<< All News